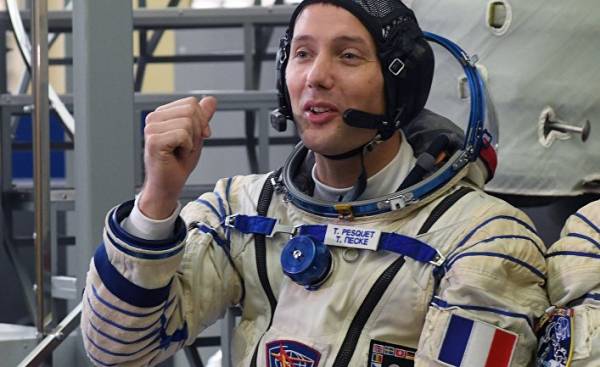 The birthday of Thomas Sands, which the French astronaut will celebrate in orbit on Monday, February 27, to the International space station (ISS) brought macaroons macarons.
Thursday, February 23, space Agency NASA has announced that a cargo capsule "Dragon" was successfully delivered to ISS. It "caught" robot manipulator introduced by astronauts. The dragon had given them 2.2 tons of food and equipment for scientific research. There were two boxes, each containing seven almond cookies macarons in a vacuum package, a gift to Thomas Sands for his birthday.
Talented French pastry chef Pierre hermé specially revised his famous cookie recipe for space conditions. Among the possible flavours, he chose raspberry macarons, "because the taste is usually like everyone." To Thomas Sands, who will celebrate in orbit his 39th birthday, the gift should be a surprise.
Famous pastry chef started to work on "cosmic" recipe a year ago, received a list of requirements from NASA and the French Centre for space studies (CNES). "I started with a clean sheet and didn't even think I had something. Such difficult were the requirements," says Pierre hermé.
In weightlessness it was necessary, first of all, to avoid the appearance of crumbs. So after making the first prototypes, the pastry chef decided to reduce the size of biscuit to be eaten in one bite. With the same purpose, the dough was made denser than on Earth. In addition, the cookies passed the test for resistance to vibration, which inevitably occurs when you launch. "Cosmic macaroni" is also able to withstand thermal shock, but the cream inside place failed. "Instead, we've chosen a texture close to marmalade," explained the Baker. And most importantly — macarons passed the rigorous microbiological analysis. Among the requirements of space agencies was listed as "zero bacteria".
"And for me, continues Pierre hermé, the main requirement remains, of course, taste. I wanted the cookies were delicious and gave pleasure".
Cookies by Pierre hermé is not the first delicacy that went into space. Since 2006, the famous chef Alain Ducasse is developing a range of space recipes, and his colleague, also a Michelin chef, Thierry Marx sent pesquet festive dish to celebrate November 20, the beginning of his flight.
Comments
comments