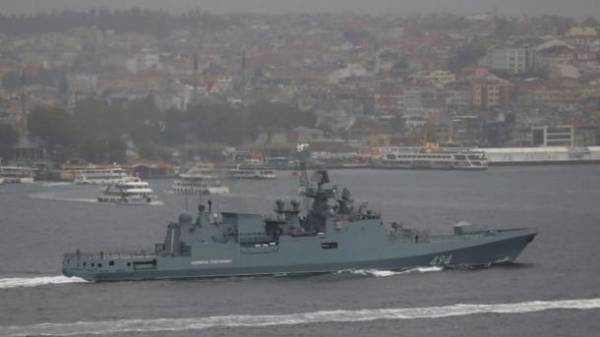 Russian frigate "Admiral Grigorovich" on Monday went to the Mediterranean where it will join the naval group of the Russian Federation, which is near the Syrian coast. About it reports Reuters, citing Russian sources, reports "Ukrainian truth".
It is known that today the frigate left the port of Sevastopol, other details not given.
The frigate in November last year already been in the Mediterranean sea within the Russian naval group and conducted missile strikes on targets in Syria.
The Russian authorities reported that the strikes on the terrorist group "Islamic state".
"Admiral Grigorovich" – the first of six new frigates, which in 2010 was ordered for the black sea fleet of the Russian Federation. In June 2016, "Admiral Grigorovich" has arrived in Sevastopol.
Frigate "Admiral Grigorovich" is able to carry on Board up to 8 cruise missiles "Caliber", and 36 anti-aircraft guided missile complex "Shtil-1" which is the marine version of the anti-aircraft complex "Buk".
In addition to the missiles on the arms ships artillery of 100 mm caliber, anti-submarine rocket-bomb installation "Smerch-2", torpedoes caliber of 533 millimeters and the Ka-31.
Earlier it was reported that the free Syrian army supported by Turkey, faced with government troops in Northern Syria. Clashes between oppositionists and the army of the regime of Bashar al-Assad in parallel with the negotiations in Geneva.
Comments
comments