Members of the group "freestyle" has commented on the death of Nina Kirso
The singer died at the age of 56 years
Anastasia Ocheretnyuk
Yesterday, 23:58
At the age of 56 years died, soloist with the popular group of the 90s "freestyle" Nina Kirso. In 2019, the singer came out of the coma, but her condition only worsened. 30 APR sister Nina announced on her death.
The composer Anatoly Rozanov and colleagues, the soloist of "Freestyle" on the band's official website already reacted to the death of Kira, expressing condolences to the family.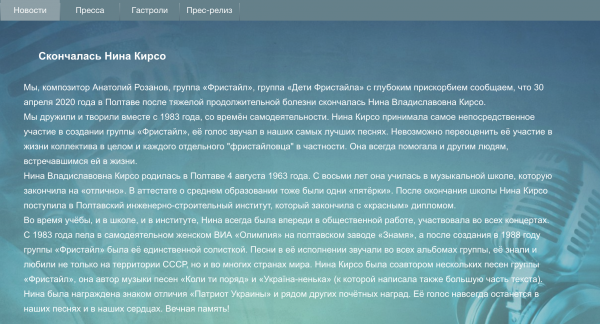 "With deep regret we inform that on 30 April in the year 2020 in Poltava after a long illness died Nina Kirso. We were friends and worked together since 1983, since the Amateur. Nina Kirso was directly involved in the creation of the group "freestyle", her voice sounded in our best songs. It is impossible to overestimate its participation in the life of the team as a whole and each separate "tristylous" in particular. She always helped other people that he had met her in life. Her voice will forever remain in our songs and in our hearts. Eternal memory", – stated in the message.
We will remind that in June of 2018 Nina went into a coma after a stroke, but her condition only worsened. In early June of 2018, the artist suffered a stroke, after which she underwent surgery. But as the artist only got worse and friends found her unconscious in the apartment in Poltava. Her husband and producer of "freestyle" Anatoly Rozanov with his son Maksim were at this time on the road.
Comments
comments