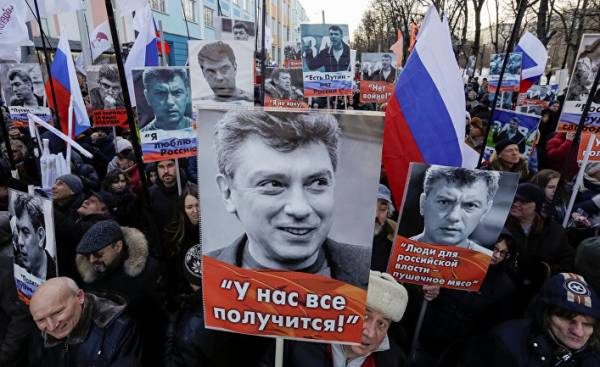 "Russia without Putin," they shout. "We will not forget, not forgive." This refers to the murder of Boris Nemtsov.
He was shot on 27 February the Bolshoy Moskvoretsky bridge in Moscow. According to estimates, over 15 thousand people on Sunday in the centre of the Russian capital to remember this day. He remained in the memory of all those who still believed that in Russia the opposition, although it suffered from assassinations and other repressions, there is still a chance.
Nemtsov was the one who gave us hope. "Smart," "very talented", "fearless", described opponent of Putin, many marchers. Nemtsov was an active politician, he led street protests after rigged elections to the Duma, mobilized many young activists and myself have found a compromise with political opponents.
Almost nobody thought that former Deputy Prime Minister, such as the Germans can be killed. From 27 February 2015 in Russia, everything seems possible.
Mitya, who is 23 years old, holding a banner with the Russian flag, which is done by the holes, they depict shots at Nemtsov. He says: "I am convinced that this murder won't be forgotten. So many people came".
Like many on Sunday, the student does not believe that behind this crime are only five Chechens who currently have to appear before the Moscow military court. Too many questions still remain unanswered: what was the motive of men is it really just greed? And I knew Ramzan Kadyrov, head of Chechen Republic, who actually commanded there units, including a battalion of the suspect shooter, the battalion "North"? In what will be known the real customers of murder, does not believe neither him nor his friends.
"People for the most part all is indifferent!"
Ilya Yashin, one of the organizers of the March, runs forward with a megaphone. "If customers are not arrested, we in Russia can expect further political assassinations".
Fear roams everywhere. A friend of Putin critic Nemtsov and Vladimir Kara-Murza, who also called for the March, was, supposedly, has twice poisoned. He again left Russia.
"The mood is very sad, people by and large don't care," says 37-year-old Nicholas, who is waving the Russian flag. According to him, it seems that Russia used to political murders.
It's a peaceful memorial March through downtown Moscow. It is marred only by the attack on former Prime Minister Mikhail Kasyanov. Unknown splashed him in the face with green liquid. Then many of the participants come with their carnations and chrysanthemums to the Big Moskvoretsky bridge where Mr Nemtsov was killed in full view of the Kremlin. There is a commemorative March held not allowed and without that the authorities are doing everything possible to prevent commemorative events.
"Nemtsov was the only candidate who could replace Putin," — said Valentin Nikitenko. He is 66 years old, on his chest he had hung up a poster with a photo of the bridge where Nemtsov was killed. The poster reads: "the Kremlin is afraid of him more than us, "live".
Why is he the living word put in quotes? "We are too passive". If something changes, then only on the street, says Nikitenko. He specially arrived from St. Petersburg.
Presidential elections no candidate from the opposition?
For him this March is a protest against President Vladimir Putin. His name, Nikitenko decided on his poster not to write — "not permitted." According to eyewitnesses, the police took away these posters this Sunday.
Nikitenko, and many of the demonstrators use the opportunity to Express their dissatisfaction with Putin's policies. Some believe that people are "harassed" that government officials steal. Others demand the release of political prisoners or branded the war in Ukraine and annexation of Crimea, criticizing corruption, excessive patriotism, bad economic situation and the increasing cost of living in Russia.
Putin, if he will allow health, in March 2018, will again run for presidential elections. According to media reports, this should be his last election campaign. Almost nobody believes that opposition activist Alexei Navalny, who with his wife joined the ranks of the protesters, will be allowed in the elections. Recently, he again was sentenced to probation in the same questionable process.
However, a relieved reaction to the message that finally on Sunday were released activist Ildar Dading, the one in Russia for peaceful demonstrations and pickets sentenced to a prison term.
"Our advantage compared to the regime — is honesty," wrote the poster Elena Rostov. She says murder of Nemtsov was trying to intimidate people.
And she has no fear? "No, he didn't have fear," she says and shows a picture of Nemtsov. The number of demonstrators will, unfortunately, be reduced, she said. The first anniversary in Moscow were still 24 thousand people. But she will be coming all the time, says 65-year-old woman. "When my granddaughter grows up and asks what I was doing, I at least can say I went to the demonstration".
Comments
comments