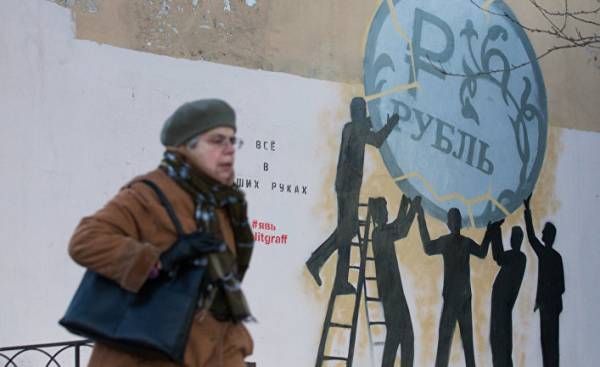 The unprecedented growth of the ruble on the currency exchange market, especially pronounced in relation to the dollar and the Euro, are very concerned about the Russian government. Have already begun to be implemented at the artificial restraint and even reduction of the national currency.
As informs news Agency IRNA, the current situation of the ruble in the financial markets and its high cost relative to the dollar and the Euro, is fraught with considerable difficulties for the Russian economy on the world stage. This was the reason that President of Russia Vladimir Putin and Minister of economic development of Russia Maxim Oreshkin agreed to hold an emergency meeting for the joint study of the situation.
On the agenda of this meeting was the question of measures to support Russian exports, and taking into account the observed strengthening of the ruble, discussed possible options for reducing the cost of national currency of Russia.
In recent days, the Russian ruble has reached its highest for the past year value for the dollar was 56.5 rubles, and the Euro was proposed 59.5 million, respectively. Also two weeks ago, the dollar, with minor fluctuations, cost 62 rubles, and the Euro is 65 rubles.
As wrote the newspaper "Moskovsky Komsomolets", so the unprecedented strengthening of the ruble in recent weeks promised a lot of problems the Russian government and set up a rather complicated situation. The Minister of economic development of Russia in this regard, said that the strengthening of the ruble is temporary, and that soon the situation will change.
The Minister of agriculture of Russia Alexander Tkachev, putting the grain harvest more than 100 million tons, and, along with that the willingness to increase exports, has also recently stated that the growth of the ruble had a negative impact on the competitiveness of Russian products abroad.
In these circumstances, the Central Bank of Russia has carried on the agenda the issue of measures for the artificial devaluation of the ruble. These measures are being implemented with the help of existing mechanisms for the reduction of ruble deposits, as well as a massive Bank purchases of the dollar and the Euro, that is, using those mechanisms, which are essential tools in the currency markets.
Experts also do not exclude the possibility that, in accordance with the predicted decline in oil prices on the world market, the value of the Russian currency will also decrease. Russia currently exports to the world market in oil volumes to approximately 11 million barrels a day, and it is this sector of "oil revenues" plays an important role in ensuring the country's budget.
Comments
comments