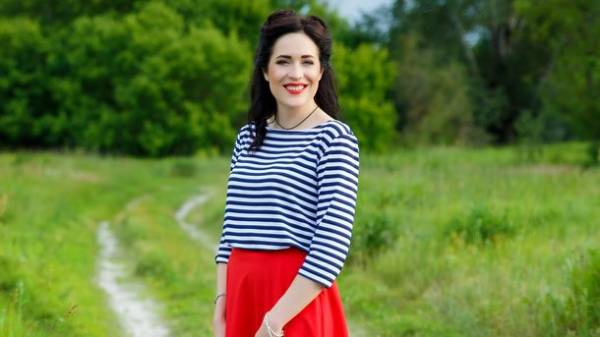 History Dyadechko Tatiana would surprise many. To 2012 she worked as an assistant Director in a large firm, and she loved everything: excellent salary, twice a month trips abroad, in short, a dream job. But haunted feeling "out of place".
"There was no impetus for change. And then fell in love, had to move from Poltava to Kiev, I quit and over a year not doing anything except soul-searching," recalls Tatiana.
That was the hardest period in my life: after a managerial position, she woke up in the morning, not knowing for what. One of these days full of despair she went to the market, bought milk and made my first homemade cheese. Process so much that a year she fed cheeses family and friends, filling his hand and experimenting. Then came the sale on friends and participate in food festivals: on the first home cheese factory sold all the goods three hours. It became clear that this could be a good business and we must move forward, to open their own shop.
"I'm a cheesemaker, the organizer of the food parties and one of the organizers of the motofestival "Tarasova Gora" — so today, after months of persistent labor, is the author of a dozen unique recipes Tatiana.
Now, when beset by financial problems and legislation is constantly changing, she admits that she begins to wonder: is it really love this thing to all to stand?
"But as soon as I get to the shop and be "the press," doubt as a hand shoots — so incredible fun!" — says the businesswoman.
THE HARDEST
Peace Tatiana doesn't know: change the laws, the partners, there is a constant search for work. Just recently rented a shop, but is already thinking, not to change any of it — staffing is a big problem, the villagers simply have no desire to work, she says, and from nearby districts to work in the shop not a train: 50 km distance, and the roads are useless. "When they say: "I Want to start a business, because tired of working "on the uncle" — I find it funny. Starting a business, you begin to work 24 hours a day — at work, on customers, on suppliers," says the cheesemaker. But the most difficult aspect of the life of a private entrepreneur she considers self-organization and configuration of the daily chart. The frantic pace is often exhausting, you want to relax, but as soon as gave myself a rest, to mobilize and return to the mainstream is extremely difficult.
"He set goals and he set up each morning on their achievement. When in the past year have launched shop — worked 20 hours a day. After 2-3 months of such a regime has wanted nothing, — says Tatiana. Every day someone needs anger management and a small victory over himself, because in the future I do not want to work hard as now. But you should try and get to a level that will allow you to work differently".
START-UP CAPITAL
It all started with common household pots, a market and pharmacy milk ferments. A few months before that Tatiana studied math, read, watched videos, learning cheese-making.
"Then he bought the molds, sieves, sourdough — all it took 300 hryvnia — says about his first investment Dyadechko. Gradually the speed was increased, found near Kiev workshop, where a year rented a shift (came to work there twice a week)".
But the snowball grew, the need for your shop, money for the rent of which Tatiana was not. "I understand that time is the most valuable thing is, it is already underway, and to develop it it is necessary as soon as possible, so try to save is not, — says the businessman. — Seed capital for the shop of steel sold car and an Arsenal of photographic equipment, plus friends, took a solid amount. Bought a fridge for milk, pasteurizer, work tables, shelves, mats, lot — b/u of Europe, and the work went on".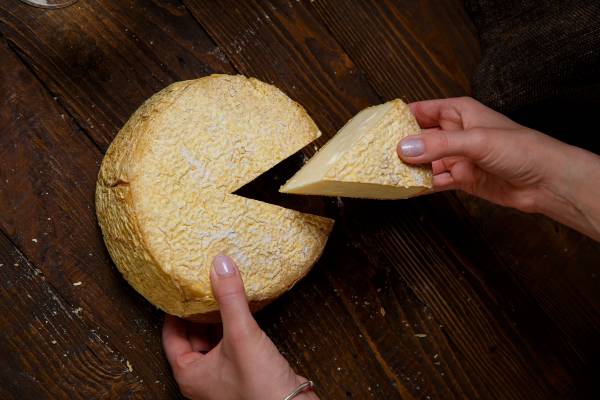 Cheese makes only original recipes
HOW LIFE HAS CHANGED
2016 was so intense that the current Tatiana set a goal: to direct more time and effort into creating a family than to work, and made a schedule of trips for the year. They were previously an important part of life, but now when the schedule, though tight, but Tatiana was his mistress, managed to find time to travel as often as you want.
"At some point vowed to invest not only in business development but also in their hobby. So all the time, then buy tickets, book hotels. Before the New year made a tour of Europe: I traveled by car all the most "cheesy" place, seen and learned a lot, met craftivity manufacturers and teachers cheese making. Found that the level of English I'm too old, enrolled in language courses", lists the positive changes in my life been.
No matter how difficult, she always finds time for the gym, says once gives way to laziness and reduces physical activity, so soon become flabby and other spheres of life. In addition, she is actively involved in the organization of the annual motor festival, because the stories — its a serious hobby for life.
"But internally, I just began to feel that finally doing their job. Maybe in a few years want something else. But today, receiving commendations from satisfied customers, only one thought: how great that is in my life!" — Tatyana smiles.
TIPS FOR BEGINNERS
If to start from the beginning, Tatiana would have a hundred times thought about where to open shop. The current point in the Zhytomyr region was good for the price, but too specific area: the village on the border of two regions, both the regional center — 50 km, road killed.
"Their mistakes are learned which aspects need to be considered in this matter. We have a huge problem with raw materials: high-quality milk in the afternoon with fire will not find, but clients are asking more and more products", — shares his experience of the entrepreneur.
Resource base — a Foundation, Tatiana can take milk only from several small farmers, which I'm sure: pure, high quality, and cows are fed what is needed (it affects the technology of production of cheese). Besides technical aspects, an important morale.
"Don't envy the entrepreneurs. Get to know their schedule and the rules of life: often people find the idea of friends is cool, but envy is not the best Advisor, — tells Tatyana. — Parents and friends told me: "Oh, it's so hard, you'll fail," but that listening is also not necessary. Listen to those who ask constructive questions and gives good advice".
Comments
comments