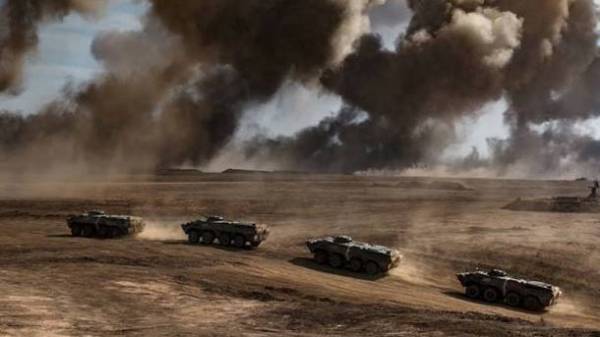 The joint exercises "West-2017" and the presence of Russian troops do not pose a threat to the sovereignty of Belarus and countries of the West. This was stated in interview to the edition "SAT. Belarus today," the Minister of defense of Belarus Andrei Ravkov.
He denied rumors that Russia allegedly using military exercises "West-2017" may occupy the territory of Belarus.
"Let me remind you that according to the decision of the presidents they are held every two years, alternately on the territories of Belarus and Russia. Russia is our strategic ally, with it we build a common defense space. The upcoming maneuvers is one of the forms of preparation of the combined group. Injected in the last time, some "experts" hysteria about alleged possible occupation of Belarus by Russian troops — no more than an attempt of some marginal structures to gain political dividends or to increase your rating due to the exploitation of the topic of the Belarusian–Russian relations," said Still.
He also assured that the joint exercises do not threaten any sovereignty of Belarus or Western countries.
"Threats to the sovereignty of our country joint strategic exercises "West–2017″ assumes by definition. The idea of teaching, the areas of the meeting, the number of personnel and military equipment, participating from Russia, — all this is developed and agreed with the Belarusian side. All troop movements are also controlled by us. There is no threat and Western States, as the doctrine is defensive in nature, not directed against third countries and only solves the problem of strategic deterrence," he added
The question is not worrying whether the transfer of Russian troops to the border with Belarus, he replied: "It is an internal affair of the Russian side, aimed at strengthening its defense capability".
Earlier it was reported that President of Belarus Alexander Lukashenko and his entourage alarmed because of the formation of a new division of Moscow near the Russian-Belarusian border, and is also planned for this year of the Russian-Belarusian military exercises "West-2017," providing a large-scale transfer of Russian forces on the territory of Belarus.
"Certainly, the economic dependence of Belarus on Russia worries Lukashenka and his entourage. As the Moscow formation of new division at the Belarusian border along with placed there Kantemir and Taman divisions, and the Kremlin's desire to place in Belarus, Russian troops on a permanent basis, and planned military exercises "West—2017", – noted journalists.
Comments
comments