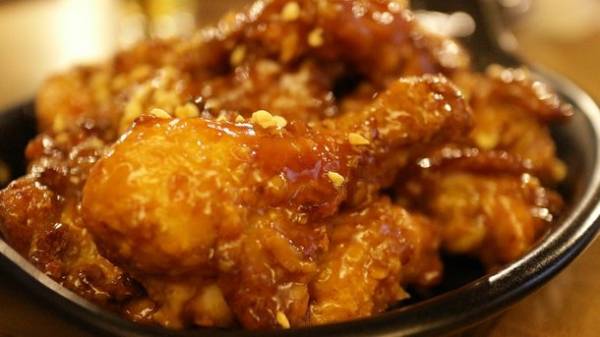 Chicken very useful for our immune system. It is not surprising that those who regularly eat boiled chicken, get sick far less often than fans of pork, beef and carbohydrate food. The recipe to improve the taste of chicken offers Sobesednik.ru.
Ingredients
1 kilogram chicken legs;
3 tablespoons soy sauce;
70 grams of butter;
250 grams of chicken broth
Bank of pickles
Bay leaf
chili pepper, salt – one teaspoon.
Cooking
For the marinade combine all ingredients in saucepan: soy sauce, melted butter, salt, pepper, Bay leaf. Immerse in the weight of the chicken so that the meat soaked in as best as possible. Leave on for two hours. Then transfer the meat with the marinade in a container for baking, add chicken broth and finely chopped cucumbers and pop them into the oven with temperature of 200 degrees for about 30 minutes.
From the top you can sprinkle the dish with paprika to impart a beautiful color to decorate with lemon wedges and olives. The chicken should be well browned on top, and inside to remain juicy.
Earlier, we wrote how to cook fried rice balls.
Comments
comments