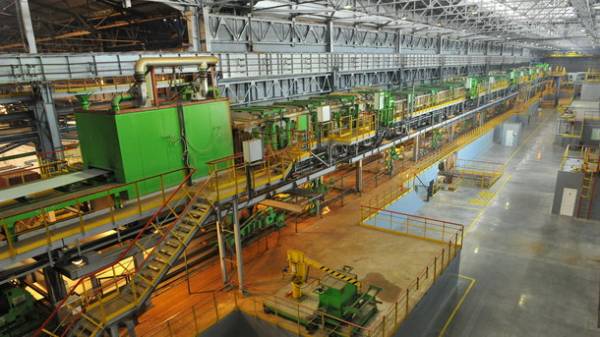 Employees of "Zaporizhstal" addressed to the mayorto Vladimir Buryak and deputies of the Zaporozhye city Council with a call to use all available legal methods and means to solve the problem of blocking of the railway in the Donetsk region.
The staff of the factory recalled that the blockade of Donbass has caused a shortage of coking and energy coal in Ukraine.
"Zaporizhstal aware of the consequences for the Ukrainian economy and the economy of the enterprise that brings the embargo. Our Mariupol colleagues have already been forced to reduce production due to the shortage of raw materials. Under the threat of decline in production was the "Zaporizhstal" steel works, other metallurgical enterprises of Ukraine". the letter staff sent to the local authorities.
The shortage of coal threatened the full operation of thermal power plants, noted at "Zaporizhstal". In particular, due to the shortage of anthracite can stay a few power plants, there is a shortage of capacity in the unified energy system of Ukraine. The Cabinet has already declared a state of emergency in the energy sector.
"During the state of emergency in the industrial enterprises of Zaporozhye, including the "Zaporizhstal" steel works, can come the requirement to reduce energy consumption. Fulfilling these requirements, the plant will be forced to stop the rolling mills at peak hours, which will reduce production and increase production costs. All these factors will affect the competitiveness of the plant "Zaporizhstal", will lead to lower exports and lower income tax payments in budgets of all levels. Moreover, in case of force majeure situations, the industrial enterprises and the population will remain without electricity, which threatens the emergence of man-made and humanitarian disasters", – the letter says.
"The whole industrial complex of Ukraine is a single chain. If he beat out one link, the whole system suffers. Stop any industrial enterprise harms the economy of Ukraine", – say the employees of "Zaporizhstal".
The plant warned that the embargo harms every Ukrainian family. People are threatened not only by loss of jobs and deterioration of the welfare – they will literally lose light, heat, water.
Earlier it was reported that because of the blockade of Donbass Kramatorsk Ferroalloy plant was on the verge of stopping.
Comments
comments