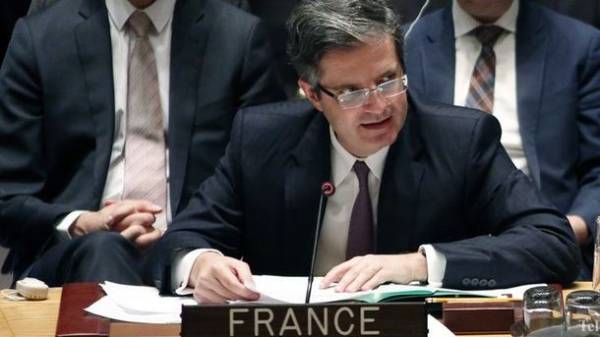 The permanent representative of France to the UN Francois Delattr recalled that the Minsk agreements are the only way to resolve the conflict in the Donbass, and Russia's recognition of "documents" of individual regions of Donetsk and Luhansk regions contrary to such agreements.
"In Ukraine, we continue tirelessly with our partner in Germany to make all efforts in the "Normandy format" for the full implementation of the Minsk agreements. Everyone recognizes that this is the only way for a peaceful settlement of the conflict. The recent tensions in the town of grave concern, also we regret the decision of Russia on recognition of documents issued by the authorities of some regions of Donetsk and Lugansk regions. This is contrary to the spirit of the Minsk agreements", – he said in the framework of the open debate at the Ministerial level under the theme "Maintenance of international peace and security: conflict in Europe."
The envoy also noted that the ongoing debate on the development of the plan of implementation of the Minsk agreements. "Germany and France are convinced that the only way forward is to achieve equitable progress on the political front and the security on the Minsk agreements. We are as ever committed to continue the efforts in the "Normandy format" … I Want to remind you about our commitment to the protection of the sovereignty and territorial integrity of Ukraine", – he stressed.
Delattr reminded that sanctions against Russia will be saved until the complete fulfillment of the Minsk agreements.
As reported, Ukraine from February 1, began to chair the UN security Council. It is planned under the presidency of Ukraine, except for the issue of the protection of critical infrastructure, February 21 to consider the issue of conflict resolution in Europe.
Comments
comments