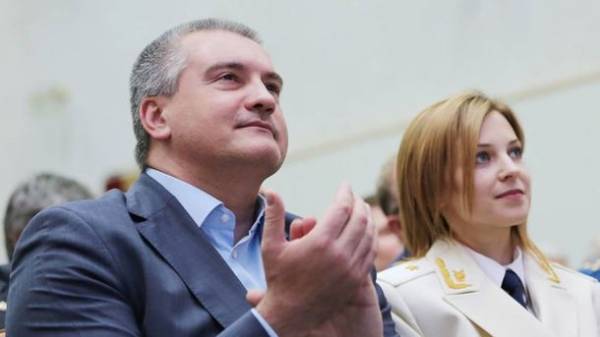 GPU is a former "Prosecutor" of the annexed Crimea Natalia Polonskaya and the so-called "head" of the occupied Crimea Sergey Aksenov for the delivery of the new suspicions on 27 February in Kiev. The agenda is published on the website of the GPU, the TV channel "112 Ukraine".
"In accordance with the requirements of article 133, 135, 278 code of criminal procedure is invoked on February 27, 2017 from 9:00 to 18:00 to the Prosecutor of Department of the procedural management in criminal processes of the Department of representation of interests of citizens or state in court, combating crime and corruption in the temporarily occupied territory of the Crimea Peninsula of the Prosecutor General of Ukraine O. V. Kokoshko office No. 713 at St. Lesya Ukrainian, 26-a, Kyiv for the delivery of a notice of change previously reported suspicions about the new suspect, and also investigation with your participation," – said in the agenda.
The Prosecutor General's office emphasizes that in the case of absence without good reasons, suspects may be imposed a monetary penalty in the amount of 1.6 thousand UAH (0.5 minimum wage) or applied to the actuator.
Also, absenteeism may be grounds for the start of the special (accelerated) investigation against the suspects.
We will remind, on June 23, 2016, the GPU was called in for questioning a number of senior "officials" of the occupation authorities of the Crimea, including Poklonsky with Aksenov.
Comments
comments