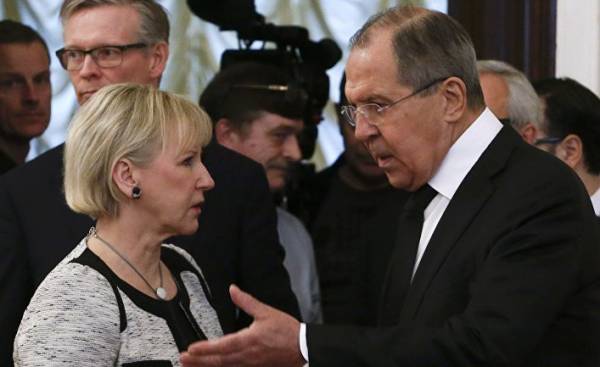 Frozen for three years to the bottom of relations between Russia and Sweden can start to thaw. On Tuesday, Margot Wallström visits to Moscow and met with his Russian counterpart Sergei Lavrov. She hopes she will be able to establish a respectful dialogue about what the Minister told newspaper Dagens Nyheter.
The visit of the Swedish foreign Minister to Moscow — the first official contact between Sweden and Russia at a high level for many years. Since the Russian invasion of Ukraine in 2014 and the annexation of Crimea, relations were icy.
Sweden were not satisfied with the usual loyal participation in the penalties the EU against Russia, but was also among the countries that combined all diplomatic relations with the Putin government to a minimum.
Within three years after the Crimea, Moscow and Stockholm held opposing views as to who is responsible for the cooling. Russia's Ambassador in Stockholm, Victor Tatarintsev several times in the interview with DN stated that the Russian side is not involved, and that "they did everything to start a dialogue and contacts".
Margot Wallström, where DN was found during her visit to the conference on security in Munich, sees it slightly differently.

Margot Wallström: I do not think that we have frozen relations with Russia, but we were very loyal to the EU, including those which included the recommendation to avoid high-level contacts. And over time, we were among the last countries that still do not support contacts at the level of Ministers of foreign Affairs. I think it is very important to be able to speak directly and convey their views. I hope for a civilized dialogue.
Dagens Nyheter: When you last met with Lavrov in Switzerland in December 2014, saying he wasn't very nice.
— This is an exaggeration, but it seemed to me that he was in a bad mood after meetings with EU Ministers on the same day before, they all told him the same thing about Crimea.
— What you want to achieve in Moscow?
— To establish a dialogue and direct contacts based on respect. First and foremost, we want to maintain constructive cooperation and not allow it to deteriorate. What you do in the security Council, is extremely important, but issues like Syria needs to be the center of attention.
In Moscow Wallström takes her Russian counterpart, who believes that Sweden in terror before Russian, or, as it was expressed by Sergey Lavrov in an interview with DN in April 2016: "If Margot Wallström said that relations — the most cool, so it is necessary to close the window, not to the barrel from those of the centers where generated Russophobia".
As a response, Margot Wallström luck with a fresh foreign-policy Declaration, which among other things refers to a "massive effort" against Russia:
"We need to establish a political dialogue, to act with a long-term perspective and to urge Russia to cooperation instead of confrontation. All we have to do, not allowing deviations from our position of principle. Sweden condemns the aggression of Russia against Ukraine and illegal annexation of the Crimea. Sanctions will remain in place as long as the will to stay the actual reason for their introduction".
However, as he told DN yesterday, the social democratic security policy has changed. After a decade of disarmament, it is time to re-arm.
"The aim is to increase confidence in the Swedish defence, and in this sense it is important to determine what threats directed at Sweden," says Margot wallström.
The world is now in a precarious position, since standing at the head of trump his kindness toward Putin and his cool attitude towards NATO has created an atmosphere of uncertainty in the American guarantee of Western Union. Someone fears that Russia after Georgia in 2008 and Ukraine in 2014 will go further and threaten the Baltic States. And then Sweden would be drawn into the armed conflict.
"It's easy to scare people that we are on the brink of war, but you need to be able to stop in time. A direct military threat to Sweden is not. But if the Baltic States will develop a threatening situation, we are, of course, will affect".
Wallström believes that there are even more serious threats, e.g., cyber warfare.
"Therefore, we should not only talk about buying additional weapons, we must arm ourselves in other ways," says Margot Wallström and mentions growing today "factories trolls."
— Do you consider Russia a threat to the security of Sweden?
— No, I do not. We need to think in terms of how they operate. So we are talking about a "massive effort" that will include our work in the EU with a tool in the form of sanctions, and efforts to cooperation, such as the Arctic region, which previously has always been the least tense — as such and remained. I'm going to ask the question of how Russia relates to nuclear weapons in the region.
Comments
comments