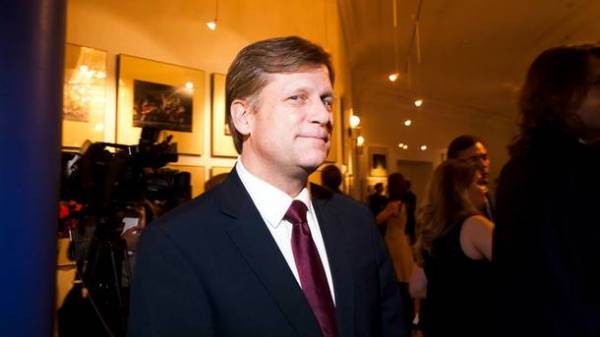 Stanford University Professor Michael McFaul is known as a specialist on Russia and Eastern Europe, as well as one of the most prominent critics of Russian President Vladimir Putin. In 2016, the Russian Federation submitted it to the sanctions list "for the application of purposeful damage relations between Moscow and Washington", although for a couple of years before that McFaul was the U.S. Ambassador to Russia. A lot of criticism from the Professor and went to Donald Trump – and as a candidate and as President. After winning the trump in the election McFaul wrote on Twitter that he, like trump, often uses public statements of position: "the Most loser in the world this night – Ukraine. Your only hope is to seriously reform and to retain the support of Europe." The correspondent of "Today" spoke with Michael McFaul at the end of the Ukrainian lunch, organized by the Yalta European strategy (YES) on the sidelines of the Munich security conference. Now the diplomat believes that there are signs of movement trump the right direction, including for Ukraine.
– Many European leaders wondered whether there is life after the elections in the United States. What do you think about the unpredictability of trump?
– Of course, when the candidate trump fought for the presidency, he said a lot of things about Europe, Ukraine and Russia, which I personally think is of concern. In American foreign policy there is a tradition, for example, I fully agree with everything said by Republican John McCain on the first day of the Munich conference, although I am a member of the Democratic party. Trump also said many things that contradict this political tradition.
One of the worst of his allegations related to the Crimea – to the question of whether to accept it as part of Russia trump said that he needs to understand.
He said disturbing things about NATO, as well as the respect and admiration for Putin. Now I see that his team is starting to talk about politics, though, and articulates slowly, in my opinion. This process is seen as extreme comments that he made during the campaign, are discarded and do not become part of the policy.
For example, in the Crimea, he never says they say the opposite. About NATO – you heard the Vice President and Minister of defense of the United States expressed strong support for NATO. Less doubt remains in America's commitment to NATO.
Much less I heard about the change of policy in respect of Russia, I think this question is still open. And even here it was discussed, but I don't think they came to an agreement on how to deal with Russia and NATO. In any case, there is a debate, and it will not bear hug that promised candidate trump.
– In Your opinion, how far beyond Twitter ready to go trump in his new conviction that the Crimea was invaded by Russia and needs to return?
– It was the complete opposite of what he said as a candidate. When I saw it, I took it as good news, because it's true.
And I'm a little worried that some American and European leaders don't talk about it as I should. I have not heard of the word "annexation" – I've only been here a day, maybe it's where it sounded, but I didn't hear – I have not heard of the word "invasion". And – the empirical facts about what happened.
I think this is evidence that it is moving in the right direction. It is too early to say, but I think it is unlikely there will be significant change in US policy towards Ukraine.
– If to speak about the "invasion" and "annexation" is there enough gave attention to the Ukrainian question at the Munich conference?
– Not for me. If we talk about the things that bother me, blatantly miss those two. The first is Ukraine, and the second – that the Russian organization attacked the United States last year, stole the data of one of our parties, interfered in our elections and helped one candidate to win. This is a big deal and should be discussed.
It is important that this is not the end. They can apply this strategy in other countries. So, speaking of safety, it is necessary to speak about cybersecurity, the purity of our elections. By the way, given Russia's capabilities, we should think about this and America, and Ukraine.
During today's discussion no one was talking about the so-called separatists or rebels, only about Russia, but often at the international level, and some of the discussions in Munich talking about some Pro-Russian groups in Ukraine. In Your opinion, how the West perceives the situation in Ukraine as a confrontation with Russia or internal conflict?
– I don't think there is a consensus, and that's the problem. In my opinion, is by far Russia against Ukraine. Others are trying to present it as a civil war. And analytical confusion leads to confusion with the policy.
– What is the prospect of providing US and NATO for more support to Ukraine, for example, sending observers or weapons?
– I was amazed at the discussion, the recording was carried out?
– Yes, there were cameras.
– I was amazed, because, as you told General Petraeus (former CIA Director David Petraeus – approx. Ed), lawmakers gave the money for weapons, everything was moving in the right direction, and then the White house stopped it, President Obama stopped. Know it's true – I have until recently had a lot of friends in the White house. Now the new White house and new President. It is important to understand what is their policy in this respect, because there were some opposites in their politics. Most Republicans strongly criticized Obama when he did not have weapons. Well, now in the White house Republican, let's see what happens.
Title photo from the page McFaul in Facebook
Comments
comments