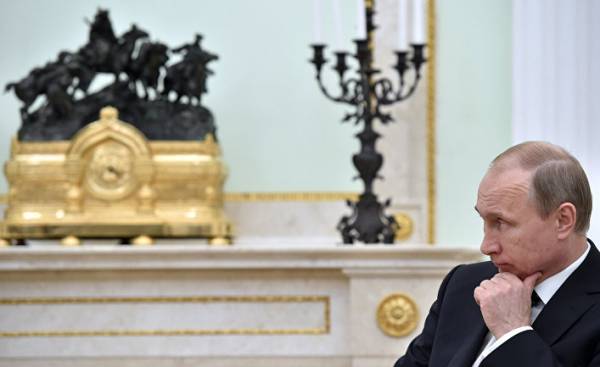 The President of Russia Vladimir Putin had amassed a huge fortune, perhaps even the biggest fortune in the world.
Wednesday, February 15 edition International Business Times published an article which States that the size of the state Putin can reach $ 200 billion.
Putin, however, never fell into the lists of the richest people in the world, such as the Forbes list.
"We assess the assets of people, including stakes in public and private companies, the cost of real estate, yachts, works of art and the size of Bank accounts, but also take into account the size of the possible debts. In addition, we consult with independent experts in various fields," wrote Forbes in 2015, adding that some people with him "cooperate" and "other — net". In addition, the magazine stressed that he does not include in their lists of "dictators who accumulate their fortunes through the abuse of power".
However, Forbes never claimed that that was the cause of Putin's absence in his rating.
In January, Time magazine published an article about Putin, saying that his condition is 40-70 billion dollars.
"I believe that it is $ 200 billion," — said in an interview with CNN, bill Browder, a former Fund Manager who worked in Russia.
"Given the fact that he is in power in Russia for 14 years, during this time, the country managed to earn a lot of money and that much money was not spent on schools, roads, hospitals and so on, it can be concluded that all the money was turned into someone's property, settled in Swiss Bank accounts, shares, hedge funds, managed on behalf of Putin and his associates", he added.
On my site Browder said about his hostile attitude towards the Kremlin. There's also a quote from the review posted on the website The Daily Beast, "bill Browder was an ambitious businessman in Moscow, until Putin took it."
But not only that Browder believes that Putin is the richest man in the world, richer than perhaps bill gates, founder of Microsoft and philanthropist. According to the latest ranking of the richest people in the world by Forbes magazine, gates is in first place with a fortune of $ 75 billion.
Former Kremlin insiders largely share the opinion of Browder, but they try not to give exact figures.
"All that is in the territory of the Russian Federation, Putin believes, said in an interview with the Guardian, the Russian businessman Sergei Pugachev, a former friend of Putin. — All — "Gazprom", "Rosneft", private companies. All attempts to calculate the size of his condition are unsuccessful… He is the richest man in the world until, until he will leave power".
Comments
comments