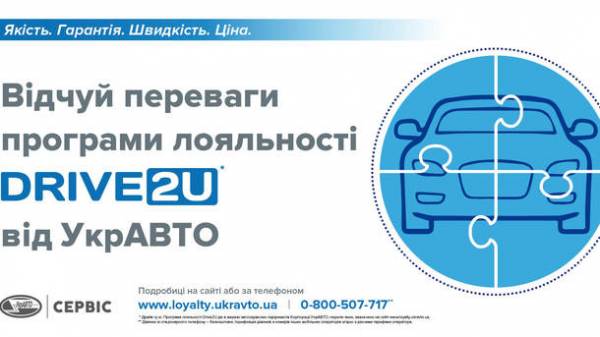 While service stations are taking into account such important criteria as the convenience of location, modern equipment and highly qualified staff. A shining example of doing business in this area is to experience the largest player in the market of granting of services, namely the Ukrainian Automobile Corporation.
Therefore, when the owner of the car, regardless of brand and model, the question arises where to get service on the first plan, the quality and speed of performance and availability guarantees, comes a price. However, the advantage, ceteris paribus, given the option, which not only has the optimum value, but also allows you to get various bonuses. Therefore, in order to thank customers for their loyalty in service stations of UkrAVTO Corporation has a program Drive2U that allows you to save money on the services and spare parts each time.
Under the terms of the loyalty program Drive2U, the client, in addition to the advantages offered by the service on the official service receives an individual approach, consistently high quality of goods and services and the opportunity to spend less. Moreover, in order to become a member Drive2U, the customer does not need to waste their precious time, and enough to make a few simple steps to start earning rewards.
To join the family Drive2U should visit the nearest dealer center of UkrAVTO Corporation, to carry out repair work or purchased spare parts, to complete a simple and short questionnaire and immediately receive a cumulative discount card Drive2U. Card loyalty program allows the customer owns the car count, depending on the amount of accumulated funds, discount from 3 to 10% for services and 3 to 20% for spare parts.
In addition to special prices for service offered loyalty program Drive2U, service stations of UkrAVTO Corporation offer each customer a highly skilled approach, modern equipment to carry out work of any complexity and of course a wide selection of spare parts. Therefore it is not necessary to experiment in matters of maintenance, especially when it comes to your own car. Network of service stations of the Ukrainian Automobile Corporation invites owners of cars, regardless of make and model, to take full advantage of new loyalty program Drive2U to ensure that official service can be available.
To get more information about the new loyalty program Drive2U and the benefits it provides, simply go to the website www.loyalty.ukravto.ua or visit the nearest service station UkrAVTO in Your area.
HELP.
Corporation "UkrAVTO" – the leader of Ukrainian automotive market. Today it is the largest car maker, distributor and provider of services in Ukraine. The only company with complete production cycle. The main exported of cars to CIS countries and far abroad. Corporation "UkrAVTO" is the General importer and official dealer of more than 20 world famous automobile brands. Corporations with more than 1 000 000 customers. Daimler AG, Chrysler Group LLC, General Motors, KIA Motors, Nissan, Toyota, Chery, AVTOVAZ appreciate UkrAVTO Corporation as a reliable and professional partner.
Comments
comments