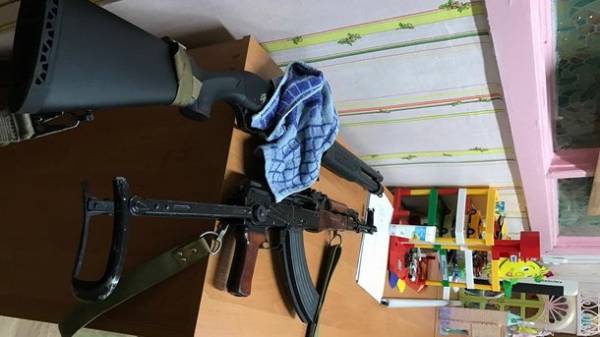 The Minister of internal Affairs of Ukraine Arsen Avakov commented on the night shootout between "Shanim body" and "Donbas" in Donetsk.
"Even if you're a war hero, you can't run on the residential areas of Kharkiv with a weapon and prove his "toughness". The interior Ministry will not tolerate on the streets of any alternative unit that assigns itself the right to regulate with the help of weapons, improvised Chevron or camo. Especially if they pay well, questionable personality. If it is brief shameful about the incident last night last night in Kharkiv, with shooting on Alekseyevka detained nine "heroes" in camouflage running from the place marketplace showdown.. in kindergarten to hide the weapons," – he wrote in Facebook.
Earlier it was reported that in Kharkov there was a skirmish between "Shanim body" and "Donbass". One of the founders of the movement "Eastern world building" Oleg Shiryaev said that the fire began due to conflict over the blockade of Donbass.
In the shootout were injured one person. According to preliminary police data, the shot was fired from the hunting weapon. Local media reported that the wounded man – the driver of a company of patrol service of special purpose "East building," Igor Pushkarev. Later, an informed source denied this information: "He is a driver of the public organization "Eastern block" and not police unit". 44-year-old man injured in the shooting, was hospitalized in the emergency hospital and urgent care, his condition is estimated as heavy.
Police detained 5 people, who, according to them, have made active bullying. Four of them – Kharkov, one is a resident of the Dnieper. Also, law enforcement officers seized 4 pump action shotguns, single unit automatic weapons, two traumatic pistols and sent them for examination. According to preliminary police data, the conflict occurred on domestic violence.
Investigative management of GU-Ukraine in Kharkiv region opened three criminal proceedings. "Information on the fact of infliction of multiple wounds Kharkiv 1972 (G. R.) brought in eRDR under part 2 of article 15, part 1 of article 115 (attempt at murder) the criminal code of Ukraine. The events on Klochkovskaya str. and Prospekt Pobedy, 77, opened two criminal proceedings under part 4 of article 296 (hooliganism) of UK of Ukraine", – reports the GU Department of communications of the national police in the Kharkiv region.
Comments
comments