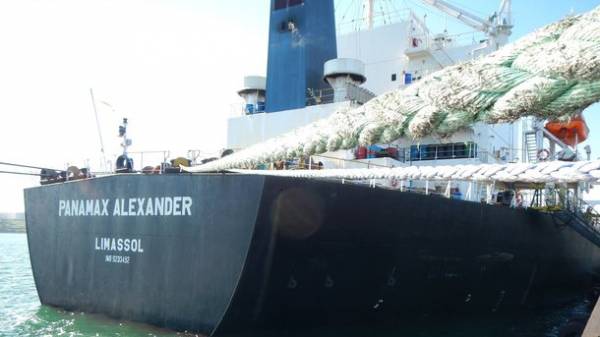 Today in the port "South" has arrived Panamax 75 thousand tons of anthracite from South Africa for thermal power plants of DTEK Energy. In the near future will begin the delivery of coal at TPPs of the company. Supply of coal from South Africa thermal power plants DTEK is part of a comprehensive company strategy for the preparation of thermal generation for the autumn-winter period 2017-2018.
The first delivery of imported anthracite will be directed to DTEK Pridneprovskaya and Krivorozhskaya TPP. Due to the supply of imported resource, will be ready at any moment to resume production of electricity to cover the power shortage in the power system.
"We contracted in South Africa record volumes of hard coal for thermal power plants of Ukraine. We expect a smooth delivery schedule for 75 thousand tons of coal per month. This will allow our stations to work steadily in the autumn-winter period", – said the Director for business operations at DTEK Energo Vitaly Butenko.
Problems with the supply of anthracite to thermal power plants of Ukraine arose after the imposition of a blockade and loss of control over the Ukrainian coal mines, which are on an uncontrolled territory. This led to the forced stop of TES, who worked in the anthracite.
To supply its thermal power plant fuel, the Energy company DTEK has increased investment in the gas extraction of coal, and has already contracted 675 thousand tons of coal in South Africa with the possibility of increasing the supply of 1 million tons.
Help
DTEK Energo is an operating company responsible for the mining of coal, generation and distribution of electricity in the structure of the energy holding DTEK. Acting General Director of DTEK Energy –Dmytro Sakharuk.
In a portfolio of assets in mining, thermal energy generation and distribution includes 17 mines and 5 coal preparation plants, 9 thermal power plants and 2 CHP plants with a total installed capacity of over 17 GW, 4 enterprise for electricity distribution, which serve 3.3 million residential customers and 82.5 thousand plants.
DTEK – the largest energy holding in Ukraine, with assets in the mining of coal, generation and distribution of electricity, alternative energy and natural gas production. The number of DTEK employees – 75 thousand people. DTEK's CEO Maxim Timchenko.
Electricity generating enterprises of DTEK in 2016 amounted to 40.1 billion kWh, of which 608 million kWh was provided by the wind farms, electricity transmission networks – 45.8 billion kWh, coal – 31.2 million tons, natural gas production by 1.6 billion cubic meters.
Is a part financially-industrial group "System capital Management" (SCM), whose shareholder is Rinat Akhmetov.
In all cities the activities of their enterprises DTEK has been implementing projects of social partnership.
Comments
comments