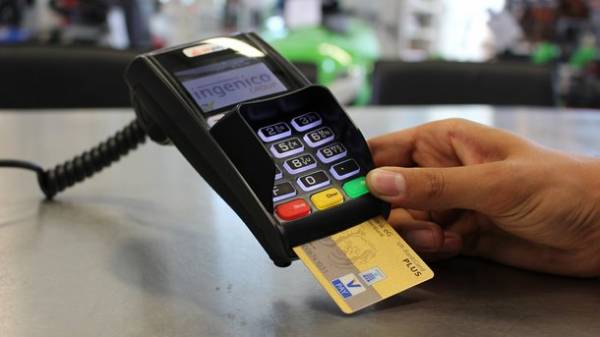 The national Bank of Ukraine (NBU) has observed a positive dynamics of growth of cashless payments in Ukraine and predicts that the share of such payments will continue to grow.
So, if in 2011 the share of cashless payments using cards in Ukraine amounted to 8%, by the end of 2016, it exceeded 35%. Indicators of payment cards market by 2016 results also showed a significant increase in the number and volume of cashless payments in Ukraine, the press service of the NBU.
The total number of transactions using payment cards grew by almost 28% and amounted to 2513 million, and the volume of transactions increased by 30.6% and amounted to 1 610 billion.
On January 1, 2017, compared to 1 January 2016 have increased the total number of:
active payment cards – 1.55 million units (5%) to 32.4 million pieces;
contactless payment cards – 0.54 million units (37,4%) – to 1.99 million units;
payment cards with the function of e – money six – fold, to 54 thousand units.
National Bank also notes the increase in the number of trading enterprises and spheres of services which allow its customers to make cashless payments. For 2016, the number has increased by more than 11% (14.7 thousand units) amounted to 145,9 thousand units.
Infrastructure by 1 January 2017 totaled almost 33.8 thousand ATMs and terminals 219,2 thousand (as of 1 January 2016 is 33.3 194.5 thousand and thousand, respectively).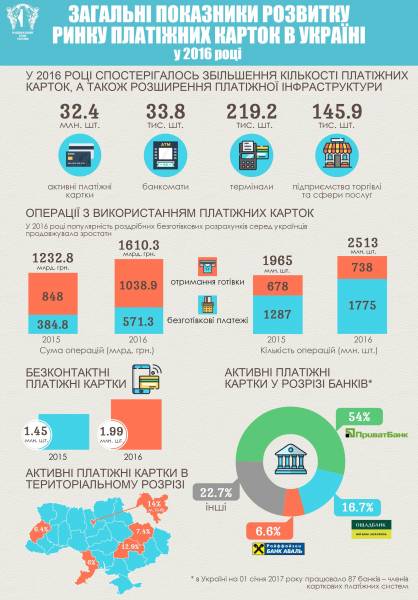 The number of payment cards and devices installed for their service in the regional context, the highest rates demonstrate Kyiv, Dnipropetrovsk and Kharkiv regions.
Recall, according to the complex program of development of Ukraine's financial sector in 2020 the level of cash in the economy must fall, and the network of payment terminals to grow to 11 thousand units per 1 million population (now 5.5 thousand units).
Comments
comments