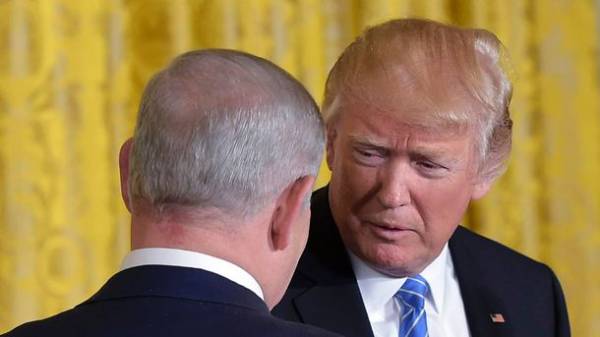 The government of Israel has little to refrain from adopting decisions on the establishment of an independent Palestinian state on the territory of the country, and to show more flexibility in the negotiations. This was stated by the President of the United States Donald trump, the TV channel "112 Ukraine" with reference to Reuters.
"I wish you had a little putting off a decision on the establishment of settlements," said trump at a joint with the Prime Minister of Israel Benjamin Netanyahu press conference.
The American leader has indicated that it will be difficult, but Israel must show its intention to conclude an agreement on the Palestinian-Israeli conflict.
Earlier a White house spokesman said that US is ready to abandon the principle of the obligation of "two States for two peoples" in matters of conflict resolution. Source Reuters said that the administration of Donald trump is not going to dictate the terms of reconciliation.
Trump during the meeting, promised to assist in the conclusion of the "great peace agreement" between Israel and the Palestinians.
Trump during the press conference did not give a clear answer whether Washington still adhere to the principle of "two States for two peoples", which for many defined the US policy in this matter. Trump said that he will be happy with any solution that will appeal to both sides of the conflict.
"I'll be honest, if Bibi (Binyamin Netanyahu – ed.) and the Palestinians, if Israel and the Palestinians will be happy, I'm happy with the decision that they like best," said trump.
Earlier, Secretary of the Palestine liberation Organization, representative at negotiations with Israel Saeb Erekat said that the Palestinian authority consider the possible creation of a unified Israel is a democratic and secular state in which Palestinians would have the right to vote.
Earlier, Palestinian President Mahmoud Abbas said that peace with Israel is possible, but Palestine will resume negotiations only if Israel stops construction of Jewish settlements in the Palestinian territory, including East Jerusalem.
In the United States said that the prospect of settlement of the Palestinian-Israeli conflict on the principle of coexistence of two States – Israeli and Palestinian – is currently under threat.
We will remind, on December 23 the UN security Council adopted a resolution which stated that Israel's building of settlements in the occupied Palestinian territory "has no legal effect and constitutes a flagrant violation of international law."
It was supported by 14 members of the security Council, including Ukraine. USA, who have previously blocked such projects, abstained. The authors of the document are Malaysia, New Zealand, Senegal and Venezuela.
Comments
comments