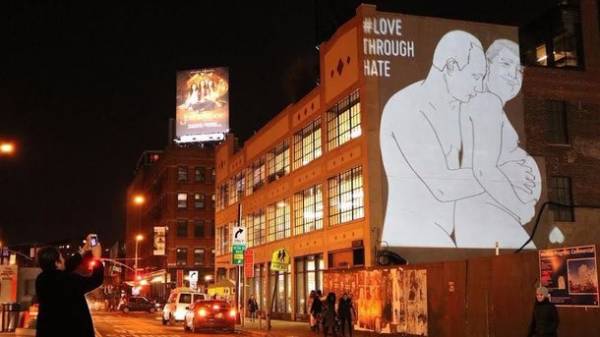 In new York, developers of apps for Dating Hater, which makes people hate to something common, said Valentine's Day, projecting onto several city streets, the image of Vladimir Putin hugging pregnant with Donald trump. TJ reported, citing Mashable.
As writes the edition, caricature of presidents of Russia and the United States appeared on five streets of new York. They were accompanied by the logo of the application in the form of an inverted heart and the brand's hashtag #LoveThroughHate (to love through hate).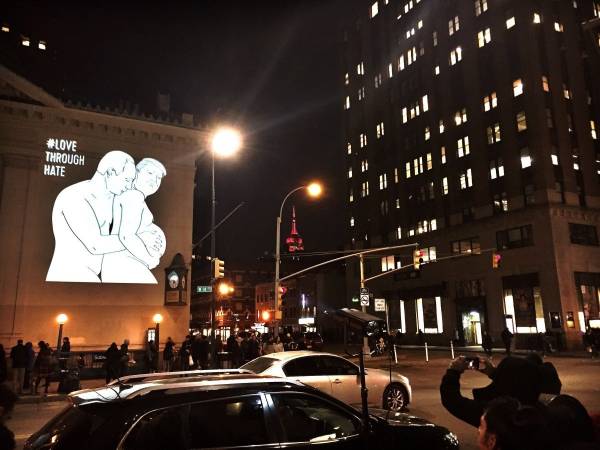 Photo Hater
As explained by the founder and Director of app, a comedian Brendan Alper (Alper Brendan), they staged an action "for the lulz" and just wanted to make people laugh, regardless of whose side they are. According to him, to love may lead not only by a common hatred of something, but also humor.
Make #valentinesday great again. Come hang on 14th and 8th if you're in NYC. Encore at Wythe and North 6th @ 8:30. #lovethroughhate pic.twitter.com/ZnN9Zs4MX1
— Hater (@LoveThroughHate) 14 Feb 2017
The Hater app was launched in early February, 2017. As told by Brendan Alper in the app is already more than 2 thousand different themes for hatred, including Donald trump, Taylor swift and gluten-free products. In future, users will be able to specify what they hate.
Comments
comments