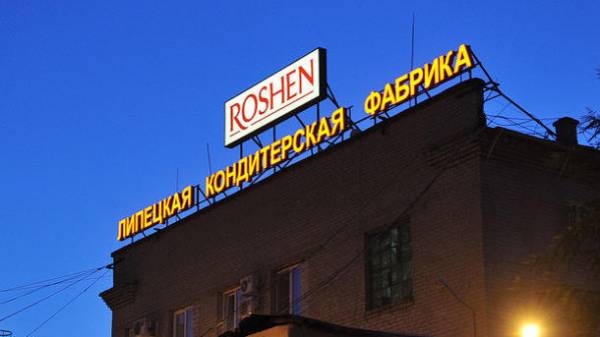 The decision to close the Lipetsk confectionery factory took the management of the Roshen Corporation, not a trust, management of which is the company. This was stated by the President of the Corporation Roshen Vyacheslav Moskalevsky.
"I have them (trust – Ed.) notified ti all. It was the decision of management," Moskalevsky said. According to him, the decision of management was 20 years ago to start a business in Russia.
"The launch of the Lipetsk factory has always been the initiative of the management. Poroshenko was there only once in my life – February 4, 2014 – and then only because he personally promised me to go there. The production of our candy was never about a political career of Peter I", – said the President of the Corporation.
According to the head of the company, the reasons for the closure of the factory in Russia is not only economic but also political.
"When he [Russian President Vladimir] Putin on a press-conferences began to discuss the profitability of the factory, etc., I realized that she's his trump card in the political game, which can be operated continuously. And for that he intends to hold her hostage (system to renew the lien on the property – Ed.) so we could not sell," Moskalevsky said.
He added that during the period of factory work in Russia, dividends from its activities started in Ukraine.
He predicted that from 1 April, the factory will cease to manufacture products, and until about June 1, will complete its implementation. The logistics center in Russia will also stop working.
As previously reported, Roshen announced the upcoming shutdown of the factory in Lipetsk. About 700 people were notified of the impending dismissal. Meanwhile, at present in Arbitration court of the Lipetsk region considers four cases of inspection of JSC "Lipetsk confectionery factory "Roshen" in LLC "Roshen". The lawyers of Ukrainian corporations do not agree with arrest of property of JSC "Lipetsk confectionery factory "Roshen" worth 2 billion roubles (the decision was taken by the Main investigation Department of the RF IC on the basis of the decision of the Basmanny district court of Moscow).
The Corporation Roshen, one of the largest producers of confectionery includes Kiev, Mariupol (now is under liquidation), Kremenchug and two Vinnitsa confectionery factories, dairy Vinnitsa factory "Roshen", as well as Lipetsk factory "Roshen", the Klaipeda confectionery factory (Lithuania) and factory BonbonettiChoco (Hungary).
In January 2016, an agreement was signed under which Petro Poroshenko has transferred its 85% stake in the Corporation in an independent blind trust (blind trust) of the company Rothschild Trust. The Bank is the Trustee of four also has attorney to negotiate the sale of assets. The President of the Corporation Roshen Vyacheslav Moskalevsky owns 13% of the investment Fund "Nondeterminist", and another four managers – 0.5%.
Comments
comments