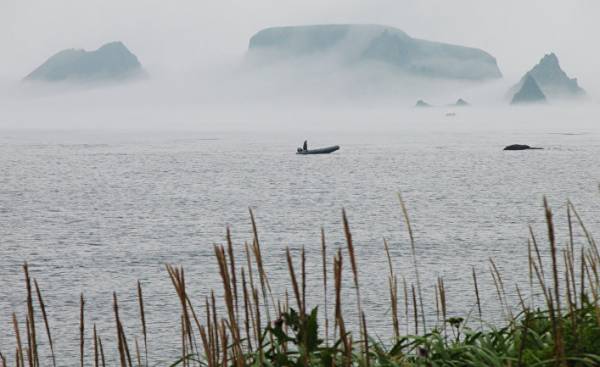 It became known that the Russian government has conferred the titles of the small Kuril Islands. They were named after Soviet officers during the Second world war he led the anti-Japanese operations. February eighth the corresponding decree was signed by Prime Minister of Russia Dmitry Medvedev. On 13 February, the Embassy of Japan in Russia expressed a protest to the Russian side, saying: "it is unfortunate that these steps do not correspond to the positions of our country on the problem of "Northern territories."
The governments of both countries began to discuss joint economic activities in Northern territories, an agreement which was reached during the meeting of leaders of Russia and Japan in December of last year. It seems that by announcing the naming of Islands right now, the Kremlin wants to reiterate that the "Northern territories" and Russia moved according to the results of the Second world war.
The island located near the island Anuchina was named Lieutenant General Kuzma Derevyanko, who represented the USSR at the signing ceremony of the instrument of surrender of Japan, which concluded on 2 September 1945. Two Islands near Shikotan, was named in honor of Lieutenant General Alexei Gnecco, which in August 1945 led the operation to capture the Kuril Islands, and ex-Governor of the Sakhalin region Igor Farkhutdinov, which is known fact that after the collapse of the Soviet Union has taken a tough stance on the territorial issue.
The naming of 2010 were studied by the Russian geographical society. The President of the society — Minister of defence of Russia Sergey Shoigu. The Chairman of the Board of Trustees — President Vladimir Putin. On 13 February, the head of the Sakhalin regional branch of the Russian geographical society Sergey Ponomarev reported to our newspaper that his Department was engaged in the confirmation of the location of the Islands and choosing their names. In 2013 the project was submitted to the Sakhalin regional Duma, which approved it last fall. Now it was ratified by the Russian government.
"Naming the Islands has nothing to do with the Japanese (their territorial claims). Lieutenant General Kuzma Derevyanko of the Soviet Union was represented in the anti-Japanese coalition, which occupied Japan. We should not forget his name," — emphasizes Ponomarev.
Comments
comments