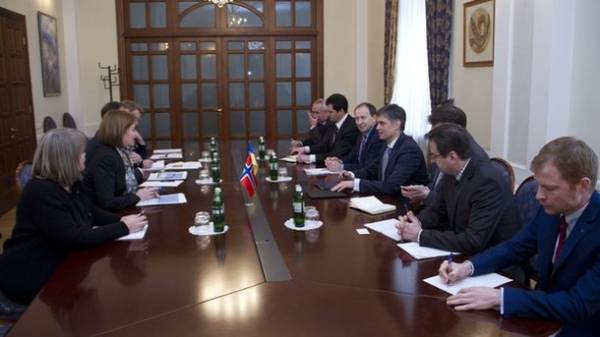 Norway supports the territorial integrity of Ukraine and supported sanctions against Russia until full compliance with the Minsk agreements. This was at the event in honor of the 25th anniversary of diplomatic relations between the two countries, said state Secretary of the Ministry of foreign Affairs of Norway Marit Berger, Island, the press service of the foreign Ministry of Ukraine.
The Ukrainian side informed about the recent escalation of the situation in the Donbas and Russian aggression.
Norway, in turn, condemned violations of international law and insists on continuing sanctions against Russia, until you have met the conditions of the Minsk agreements. Also, the Norwegian side pledged to provide humanitarian aid to Ukrainians affected by Russian aggression.
In addition, Norway has positively assessed the progress of reforms in Ukraine and intends to help Ukraine in this direction.
Recall that the second Minsk agreement of 12 February was two years old. During this time, and failed to halt the conflict in the East of the country, but managed to avoid a full-scale offensive. Now there are a lot of supporters that the agreement "Minsk-2" needs to be changed.
In turn the President of Ukraine Petro Poroshenko urged not to believe those who sharply criticized the Minsk agreement. According to him, the political paragraphs of the document can be implemented only after the obvious and undeniable progress in terms of security.
Comments
comments