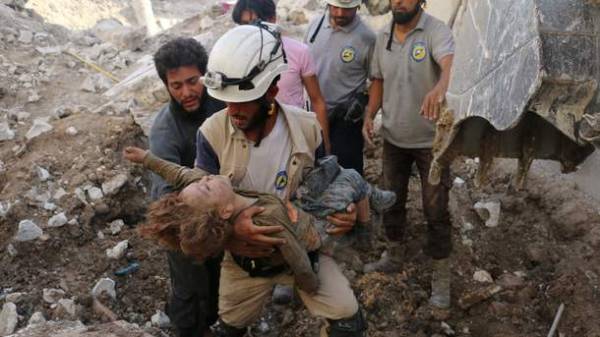 The Human rights organization Human Rights Watch has accused the Syrian government of using chemical weapons in recent months the battle for Aleppo, reports the BBC.
For the period from 17 November to 13 December 2016 human rights activists have recorded at least eight episodes, when government helicopters dropped chlorine on residential areas of Aleppo, said in a statement HRW.
The result of the use of the toxic substance killed at least nine civilians, including four children, human rights activists believe. About 200 people were injured.
To such conclusions experts of the organization came on the basis of telephone and in-person interviews with witnesses and analysis of videos, photos and social media posts.
On the published video seen as over the districts of Aleppo rises a greenish smoke.
Witnesses describe that the gas-affected people were observed choking, coughing, nausea, sometimes loss of consciousness.
The organization emphasized that chlorine, being heavier than air, down into the cellars where people were hiding from conventional bombs. Particularly affected the elderly and children, who often was out of breath.
According to the organization, the strikes on those areas where government forces planned offensive operations.
"The picture of the episodes of the dumping of chlorine indicates that we are not dealing with the personal initiative of individual, out-of-control actors, and part of the overall military strategy of conquest of the city" – presented in the statement of the HRW words of the Deputy Director of the organization for emergency situations, OLE Solvang.
HRW calls on the UN security Council to impose sanctions against the command of the government troops in the country for the use of chemical weapons.
In a statement, the organization emphasizes that human rights defenders had no facts proving the direct involvement of Russia to the cases of use of toxic substances.
At the same time, human rights activists believe that the Russian side had to take measures to prevent the use of chemical weapons in the framework of the joint campaign.
Recall, the battle for Aleppo continued between Assad army and the rebels since 2012. Eastern Aleppo under rebel control for more than four years, the last two years under siege.
Comments
comments