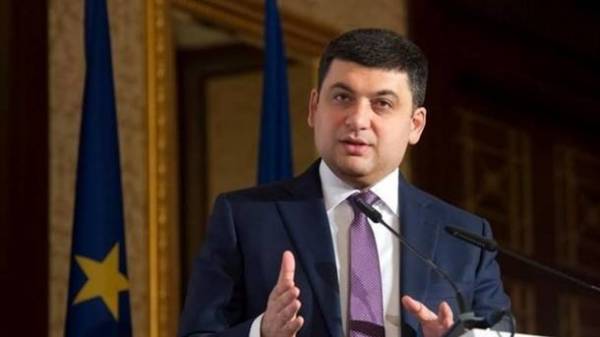 Further continuation of the blockade of freight rail with ORDA will lead to a crisis in the energy sector and industry, reducing foreign currency earnings and slower economic growth, therefore, it is necessary to unlock the supply of critical goods. This was stated by Prime Minister Vladimir Groisman.
"Today, some Ukrainians want their own hands to disrupt the heating season and force rolling blackouts. This is unacceptable, it is necessary to delimit the anti-smuggling and fight the Ukrainian people", – said Prime Minister, opening a government meeting.
"I am convinced that the critical import of the minimum set of products that we get from the Ukrainian interior, we can safely use today," – said Groisman.
He stressed that these supplies depends on the industry, which employs 300 thousand people and which provides a significant share of exports and foreign exchange earnings to the country.
"If Avdiivka coke could stop the shelling of Russians, now it can stop because it has no raw materials to work with," said the Prime Minister.
He also stated that in Ukraine in the structure of electricity production over 30% of electricity from coal, and individual cities, in particular, Kyiv, Kharkiv, Cherkasy and Chernihiv, seriously dependent on the coal Board to ensure warmth.
"Anthracite coal is mined in the us temporarily uncontrolled territory. To modernize, to abandon the coal and go to gas a group which is extracted on the territory, we need 3-5 years and every year investments in the amount of not less than 15 billion UAH", – said the Prime Minister.
According to him, the government is pursuing a policy of diversification of energy supplies, but it takes time.
Recall that in Ukraine for the third week continues the blockade of Railways, which delivered coal from the occupied territories of Donbass. Groisman said that he sees no alternative supply of coal from enterprises in the occupied Donbas in order to ensure the heat supply.
In the Cabinet allow for the possibility of rolling blackouts since the end of March if you continue to completely block the supply of coal from the zone of military operations on Donbass.
Comments
comments