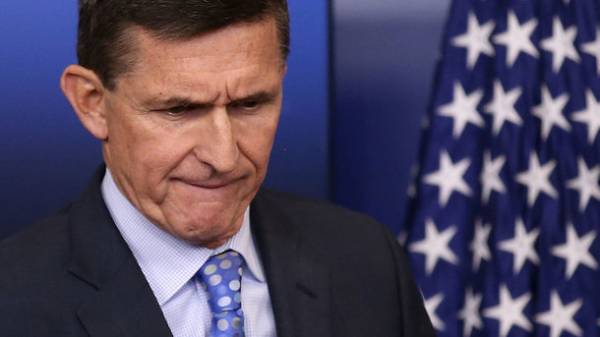 Russia criticized the decision to dismiss the US presidential Advisor for national security Michael Flynn because of his contacts with the Ambassador of the Russian Federation. About this in Facebook wrote the Chairman of the international Affairs Committee in the Federation Council Konstantin Kosachev.
"Flynn, unlike many other Americans of a high level, was still open to dialogue, visited Moscow and, as it turned out, spoke with our Ambassador in Washington. That at the present time cornered the bilateral relations and the lack of cooperation on key issues on the global agenda, by definition, better than anything practiced in Russia McCain and Republicans like him. But even the willingness to dialogue with the Russians is perceived by hawks in Washington as a thoughtcrime. To drive to the resignation of national security Advisor for contacts with the Russian Ambassador (diplomatic practice) – it's not even paranoia, but something immeasurably worse," he wrote.
According to Kosachev, this decision may be two explanations: "Either trump has not gained the required autonomy and its consistently (and unsuccessfully) into a corner, or Russophobia struck now, and a new administration from top to bottom".
As you know, Michael Flynn resigned from the post of assistant to the President Donald trump on national security.
A message about Flynn's resignation came after, as the Washington Post and the Associated Press Agency (AP) reported that the U.S. justice Department issued a warning to the White house that Flynn put himself in a compromising position because of the contact with the Russian Ambassador to the United States.
According to Reuters, the main problem for Flynn was that before the inauguration of trump's ex-military had not yet held the position of national security adviser. And then if he was talking to the Russian side about the possibility of lifting the sanctions, it was a violation of American law – private persons are forbidden to interfere in foreign policy.
Reportedly, trump has accepted the resignation of Flynn and appointed Lieutenant-General in the resignation of Keith Kellogg's acting assistant to the President for national security.
According to CNN, the successor to Flynn may be a former Director of the Central intelligence Agency (CIA) David Petraeus. The broadcaster said that in the near future Petraeus will visit the White house.
Comments
comments