How to bake a cake flavored with sour cream and cinnamon and a crunchy topping
Today, 15:46
Cake recipe for coffee from Aina Garten
Irina Peacock
the editor of the Food
Want to bake a delicious pie with sour cream with your coffee? Then be sure to pay attention to the recipe from Aina Garten, American presenter and author of cookbooks.
Soft dough with the aroma of cinnamon, crunchy nut topping, and sugar icing – this combination will not leave anyone indifferent.
Cake sour cream coffee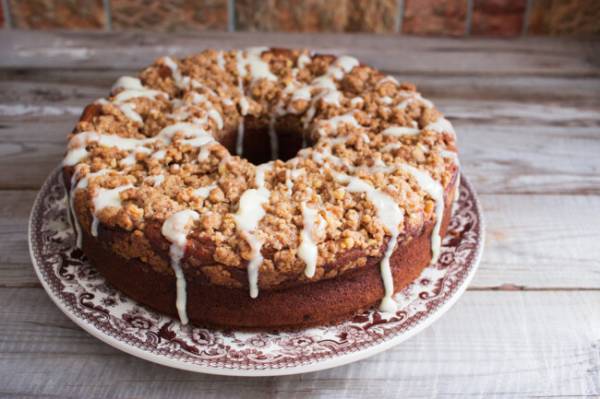 Coffee cake with cinnamon and strategem Photo: Depositphotos
Cooking time:
Calories:
Ingredients:
For the pie:
12 tablespoons (170 g) butter at room temperature
1 1/2 cups granulated sugar
3 very large eggs at room temperature
1 1/2 teaspoon vanilla extract
1 1/4 cups sour cream, room temperature
2 1/2 cups pastry flour
2 teaspoons baking powder
1/2 teaspoon baking soda
1 teaspoon of salt
For stresses:
1/4 Cup light brown sugar
1/2 Cup flour
1 1/2 teaspoon ground cinnamon
1/4 teaspoon salt
3 tablespoons cold butter, diced
3/4 Cup chopped walnuts or pecans
For the glaze:
1/2 Cup powdered sugar
2 tablespoons maple syrup
Method of preparation:
Preheat the oven to 175 °C. Grease and flour a baking pan with a diameter of 25 cm.
Using an electric mixer, beat butter and sugar in a large bowl for 4-5 minutes in a lush light cream.
Add the eggs one at a time, then add vanilla and sour cream.
In a separate bowl, sift together the flour, baking powder, baking soda and salt.
Whisking on low speed, add the flour mixture into the batter.
For the preparation of stresses add to a large bowl brown sugar, flour, cinnamon, salt and butter. Grind everything together with your hands into crumbs, in the end, add chopped nuts.
Put half of batter in greased and floured form and level it with a butter knife.
Sprinkle on top 3/4 Cup of stresses.
Spread the remaining batter in the pan, again to level with a butter knife. Distribute on top of the remaining streusel.
Bake 45 to 55 minutes, until a toothpick will come out of the cake clean.
To give the cake to cool on a wire rack for 30 minutes and then carefully transfer it to the stand.
In a small bowl, whisk the powdered sugar and maple syrup. If necessary, pour a few drops of water to slightly dilute glaze. Pour frosting the finished cake and serve.
Useful tips
If you don't have pastry flour, you can substitute it by mixing 2 1/4 cups of regular flour and 1/4 Cup corn starch.
If the eggs are cold, place them in a bowl of warm water for 5 minutes before crashing.
Earlier, we wrote how to bake a chocolate pie with nuts and caramel. Today.Lifestyle also wrote how to bake a cheese cake and lemon.
Comments
comments