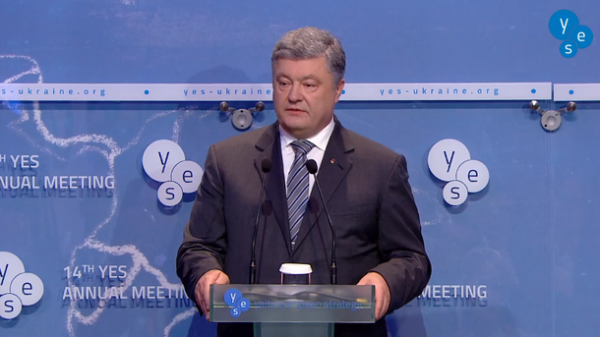 President of Ukraine Petro Poroshenko, speaking at the Yalta European strategy, noted the potential of the Ukrainian economy and Ukraine's progress in overcoming the economic crisis.
"Our economy grows, the banking system cleared… the Most famous international agencies improved the ratings of Ukraine. We use every opportunity to transition to economic growth", – said Poroshenko and thanked "Lithuanian friends" for "a Marshall Plan for Ukraine".
The President also stressed the importance of Euro-Atlantic and European aspirations of Ukraine.
"We will be the engine of the continental economy. We are moving towards full membership in EU and NATO. Recent years have shown that it is a guarantee of Ukrainian independence, security and prosperity", – said Poroshenko.
However, the President of Ukraine commented on the tension in Europe in connection with the elections in the Netherlands, France and Germany, noting that the unpredictability of elections is a sign of democracy.
"Putin was delighted last year when Europe was disintegrated, the elections were unpredictable. But it is a sign of democracy in Russia, all elections are predictable. This year unity in Europe could win," – said Poroshenko.
Yalta European strategy (Yalta European Strategy, abbreviated as YES forum) is an annual conference organized by the Victor Pinchuk Foundation.
The conference gathers the most influential politicians and businessmen of Ukraine and the world, it has been held annually since 2004.
HELP
Yalta European strategy YES: what you need to know
The aim of the conference is the development of Ukraine and its European future, as well as establishing international ties.
The founder of the Yalta European strategy, Victor Pinchuk, a prominent Ukrainian businessman and philanthropist.
Comments
comments