A simple salad of green beans with egg and mushrooms
Yesterday, 10:43
The recipe for a delicious and hearty salad with photos
Irina Peacock
the editor of the Food
Green beans are rich in vitamins and fiber. In salads this product goes well with green peas, tomatoes, corn, onions, broccoli, mushrooms, fish, meat.
We offer to prepare a salad of green beans with fried mushrooms, boiled egg and greens. He is very rich, so it can be served even as a main dish.
Salad of green beans with egg and mushrooms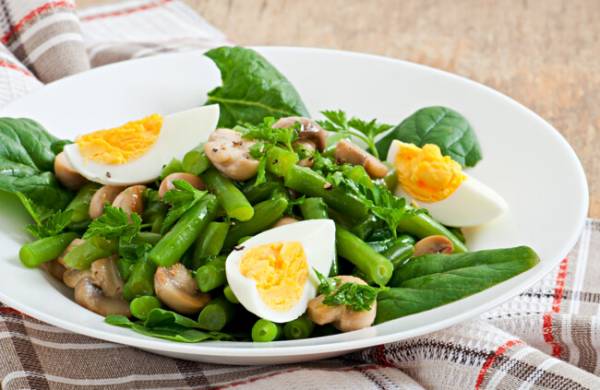 Salad of green beans Photo: freepik.com
Cooking time:
Calories:
Ingredients:
150-200 g frozen green beans
100-150 g of fresh mushrooms
3 eggs
Greens (dill, parsley, green onions)
A handful of young spinach
Lemon juice
Salt, pepper
Olive oil
Vegetable oil
Method of preparation:
Boil water, lightly the sunflower, put the frozen beans pods and boil no longer than 5 minutes. To the beans are kept bright color, wash it after cooking with cold water, placing it in a colander. Then allow to drain excess water.
Mushrooms wash, cut into small pieces and fry in vegetable oil. Season to taste.
Boil hard boiled eggs, refrigerate them.
Greens wash and finely chop (except spinach).
Cut each egg in half and then each half into slices. Combine all ingredients, pepper and salt.
Sprinkle salad with lemon juice and season with olive oil.
Useful advice
Instead of fried mushrooms in the salad, you can add 1-2 fresh cucumber.
Earlier, we wrote how to cook green beans with minced meat. Today.Lifestyle also shared a recipe for beet salad with Apple and beans.
Comments
comments