The total number of infected in the capital of Russia was 80 115
In Moscow for the last day, may 4, recorded 5 714 new cases COVID-19, while in Ukraine over the same period, only 366 new infections. This was announced by the Russian health Ministry on the page in the Telegram.
In all, the city contracted 80 115 people, the daily growth amounted to 7.7%. It is also known that about 90% of new cases are people under the age of 65 years.
"To 46.4% among the new cases – people aged 18 to 45 years, and 34% from 46 to 65 years, 7% – from 66 to 79 years, 3.3% were older than 80 years. Also for 9.3% of the patients are children. All patients and close contacts of the person are already under medical care", – stated in the message.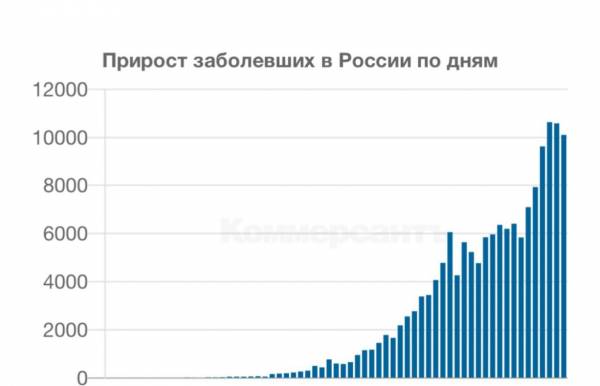 According to the statistics, in General in Russia over the past day, there were 10, 102 new cases of infection, and recovered in 1770. Also during the day, the country recorded 95 deaths.
As of 5 may, the country was 155 370 patients, recovered patients – 19 865 people. For the entire period from the coronavirus died 1451 in Russia.
We will remind, we wrote that the coronavirus confirmed the head of Russian government Mikhail mishustina. The Russian Prime Minister had to go to the isolation.
In addition, the former adviser to Putin, the Russian economist, senior fellow at the Cato Institute in Washington, Andrei Illarionov told that in the autumn of 2019, the Kremlin made it clear that Russia's epidemic. At a meeting with officials Putin discussed this trouble, but the Russians decided not to warn.
Comments
comments