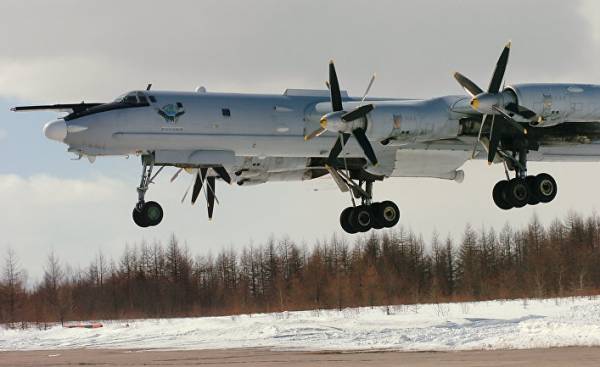 The head of the RAF condemned his Russian counterpart after intercepting two Russian anti-submarine aircraft.
On Wednesday, the British Typhoon fighter jets took off from bases in Lossiemouth, County Moray eels to intercept Russian Tu-142, coming from the North-East.
The Russian aircraft remained in international airspace over the Norwegian and North seas, but were in the British zone of special attention, said Royal air force.
The movement of Russian planes have also tracked a Norwegian F-16 and F-35 aircraft and the NATO airborne early warning E-3A. Tu-142 was officially considered unidentified because they had nothing to do with the military or with civilian air traffic controllers and did not register a flight plan.
Such flights are common for the Russian air force. Last month British fighter twice in one week went up in the air to track similar to the Tu-142.
The chief of the air staff, air Marshal Mike Wigston (Wigston Mike) said that the flights "Russian bombers of the cold war" violate the rules governing air traffic.
"These Russian bombers — relics of the cold war. They do not respect international norms for the regulation of air traffic and pose a danger to civilian and military aircraft", — he said.
"Despite the global pandemic, we and our allies continue to ensure that the actions of the Russian military aircraft did not pose a threat to the airspace of Britain and NATO."
One involved in the operations of the British pilots said that it demonstrated the advantages of cooperation between NATO allies, like Britain and Norway.
"Intercept has demonstrated our close working relationship with colleagues in NATO," — reports the statement of the Royal air force.
"After takeoff to intercept two Russian planes we have maintained close contact with the coordinators of the Royal air force and Norway, directing us and passed us guidance on all stages, so we can constantly keep track of where these aircraft are and what they do."
"Recent events have drawn attention to the activity of the Russian military, however the Royal air force and previously constantly intercepted, identified and escorted Russian planes were in international airspace within the British zone of special attention", — underlines the statement.
Comments
comments