Recipe kettle on the fire
Prepare a real Transcarpathian bograch in Kazan
Irina Peacock
Today, 06:15
The cauldron is a traditional Hungarian dish of meat, peppers, ground paprika, tomatoes, potatoes, carrots and spices. It is often added the dumplings using a small dumpling of egg dough. It is believed that this dish was invented by the shepherds who cooked it into the field on fire.
It is very important what the wood is prepared bograch, because this depends on the flavor of the dish. We recommend you to boil the kettle on the cherry.
Cauldron on a fire: recipe with photos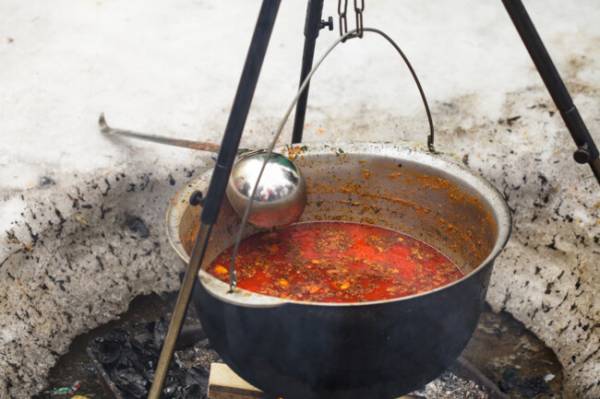 The cauldron: a recipe for a fire Photo: Depositphotos
Cooking time:
Calories:
Ingredients:
Pork bones (neck, shoulder) – 1 kg
Veal ribs – 500 g
Smoked ribs – 400 g
Veal the flesh – 500 g
Smoked bacon – 400 g
Onions – 3 PCs.
Carrots – 3 PCs.
Garlic – 5 cloves
Bulgarian pepper – 2 PCs.
Tomato paste – 150 g
Paprika – 100-120 g
Chilli – 3-4 pieces (fresh)
New potatoes – 1.2 kg
Tomatoes – 3 PCs.
Black pepper – 2 tsp
Salt
Bay leaf 3 PCs
Sugar – 1 tbsp
Water
Moonshine – 100 g
For the dumplings using:
Watch the video how to cook pilau on the fire:
Method of preparation:
Pot put on the fire and it is good to warm up. Add large pieces of fat and to melt fat.
Then add all the rest of the meat, previously cut into it. Fry until Golden brown.
Chop the onion into cubes, chop the garlic, sprinkle with paprika and add to meat. Cook about 10 minutes.
Scrape the carrots and cut into rings. Add to kettle and cover with water. While the meat should not "swim". Cook 1 hour and 15 minutes.
Tomatoes peel and cut into pieces about 1.5 cm, and bell pepper into wedges. Add to the pot and pour in tomato paste. If a little water, you can pour a little more. Cook about 40 minutes over low heat.
Now add Bay leaf, black pepper, salt, chili, sugar. After 15 minutes add the potatoes and cook until tender. At the end pour in the alcohol.
Knead the dough for the dumplings using flour, eggs and salt. Pinching off a piece, add in the cauldron and cook about 5-10 minutes. The cauldron is ready!
The Ministry calls: when the first symptoms of respiratory illness be sure to call the family doctor. Stay home! Isolation is the most effective way to protect yourself from infection.
Earlier, we wrote how to cook a baked potato on a fire. Today.Lifestyle also told me how to bake marshmallows over the fire.
All the details in a special topic the Best recipes for picnics
Comments
comments