Moscow, Moscow region and Saint Petersburg – the leaders in the spread of the epidemic
In Russia, which holds the eighth place in the world for the spread of coronavirus epidemic, yesterday recorded another record for the number of new infections.
As reported in the operational headquarters for the counter-COVID-19, 29 April the diagnosis was confirmed in another 7 099 people. Thus, the total number of infected grew by 7.1% – to 106 498 patients.
Most of the new contracted – in Moscow (3 093), where there are already 53 739 infected with the coronavirus, that is, each second in the whole country.
Also the leaders by the number of cases since the epidemic began, Moscow oblast (11 710) and St. Petersburg (4062).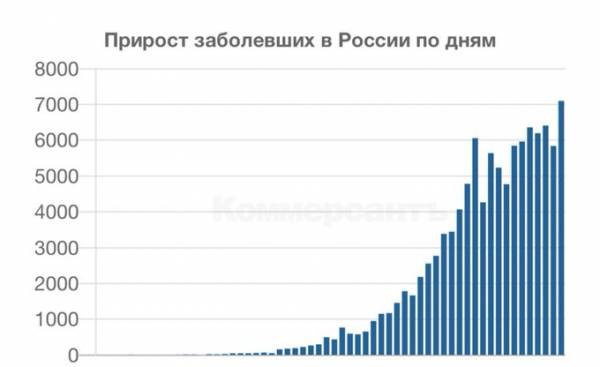 In the trend
What Ukrainians live in anticipation of evacuation from other countries
In addition, for the last day of 101 people in Russia died from the coronavirus – the second day in a row the figure crosses the mark of 100. All in all since the beginning of the epidemic died in 1073 patients with COVID-19.
Recovered and left the medical chamber 11 619 people, of whom 1333 – for the last days.
Also on the background of the epidemiological situation, the Russian government has extended indefinitely a temporary ban on the entry of foreigners and persons without citizenship, which operated until 1 may.
Recall that in the midst of the epidemic, Russian President Vladimir Putin left the Kremlin and Moscow. In the Kremlin told where he was hiding and how it protects against infection.
All the details in a special topic Coronavirus
Comments
comments