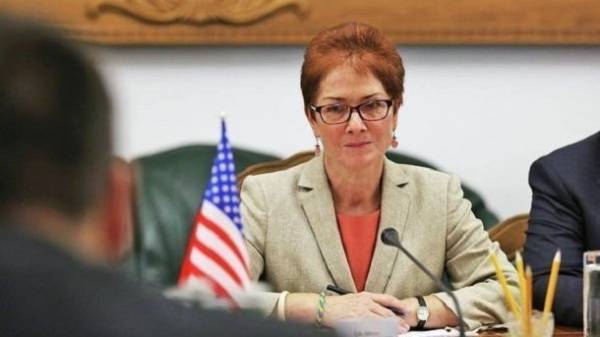 U.S. Ambassador to Ukraine, Marie Yovanovitch believes that the UN peacekeeping mission has not solved all the problems in the Donbas. She stated this in an interview with "New time", reports UNIAN.
In her opinion, without the necessary political steps to resolve the conflict in the East of Ukraine will not succeed.
"The discussion on this topic is still at an early stage. It is already clear that the peacekeepers should distinguish between soldiers who are fighting on both sides, as well as to protect from hostilities civilians. Peace must bring security. Next, you need to make political steps regarding the restoration of Ukrainian sovereignty in the Donbass", – said Jovanovic.
SEE ALSO
The proposals of Russia in Donbass is unacceptable – Walker
She stressed that the problems in the Donbass lot, and peacekeepers will not solve them.
As he told the US special envoy to Ukraine Kurt Volker, introduction to the Donbass UN peacekeeping forces will provide conditions for holding local elections in ARDLA.
Recall, September 20 at the UN General Assembly the President of Ukraine Petro Poroshenko said that Russia's position on the placement of peacekeepers only on the line of contact and for the protection of the OSCE speaks of the intention to freeze the conflict in the Donbas.
The President also appealed to the UN with a request to enter the mission in the Donbass as soon as possible. In addition, he urged the Secretary-General to send to the Donbass assessment mission of the situation.
Comments
comments