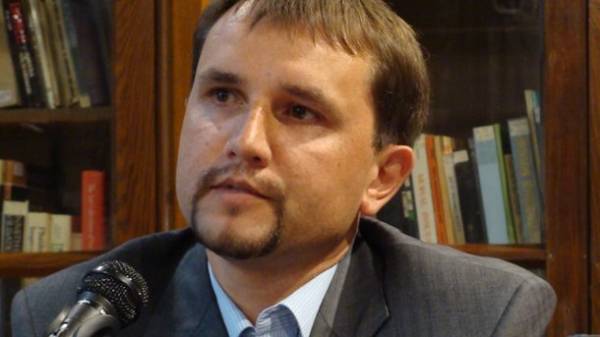 The renaming of towns and streets in Ukraine will help to create a barrier to the Kremlin's anti-Ukrainian actions in Ukraine. This was told "Apostrophe" the head of the Ukrainian Institute of national memory (winp) Vladimir vyatrovich.
He noted that Russia is using against Ukrainians remnants of the Soviet past in Ukraine, to expand its anti-Ukrainian activities. Therefore, according to him, the less "Soviet times" in Ukraine, the less opportunities for hybrid war, the Kremlin.
He also suggested that the historical figures after whom streets are renamed, important for Ukrainians to mobilize society in opposition to Russia. He carries the head of the UPA Roman Shukhevych (in whose honor was renamed the Avenue General Vatutin in Kiev), Stepan Bandera (formerly Moskovsky prospect in Kiev), head of the UNR Simon Petlyura.
"This is a man (Petlyura – ed.), which became a symbol of the Ukrainian national movement in the twentieth century. This is a piece that has undergone tampering and humiliation by the Soviet, and now Russian propaganda and historiography," – said vyatrovich.
As reported, after two years of de-communization in Ukraine renamed 99% of the objects that fall under "anti-Soviet sanctions". Settlements with Soviet names were only in the Crimea and on the temporarily uncontrolled territories of Donbass — there are more than hundreds. For two years, was demolished 2389 monuments and renamed 52 thousand streets.
Comments
comments