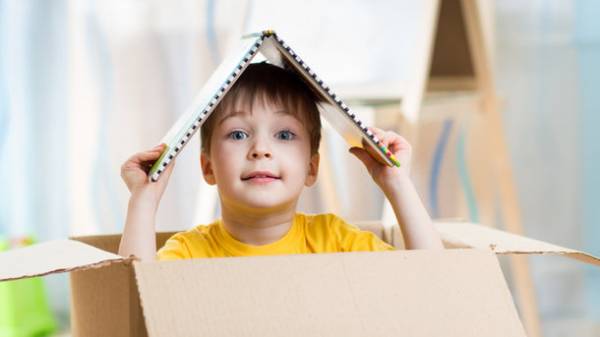 Rainy gray day, not to ride around the city, like a deer in search of any new games or activities for your child, be prepared with a couple of ideas.
To keep children occupied for a while, keep them in a good mood and your nerves, here are some ideas on decent games with their children.
Masquerade
Need for such an event preberete a bag or a box with old things. Let the child will try to walk through the room in mom's shoes, dad's shoes. Of his father's hat to make a cowboy, and the old Indian moccasin shoes. Paint or markers is desirable for such action to attach. Girls, you can give jewelry. Dressed, I can play music from favorite cartoons and dance.
Harry Potter
This is the second version of the masquerade, but with its particular theme. All the attributes of this epic with the boy-mage can you buy over the Internet or in special shop, which is called "Harry Potter". Wands, robes, hats, music – and more potions in the form of cocoa or enchanted cupcakes.
Music project
Then mommy and daddy need to arrange a whole orchestra. But only with improvised tools: metal Bank, spoon, cutting Board, wooden boxes, hangers, pans. Turn on music and play to the beat of her.
Pick up sticks
Even toddlers love this game. Take ten sticks plastic straws. The child holds them in his hand, then let go and they fall on the table. The kid must carefully collect them one by one so not to move lying around. If he's going to move at least one, the game ends. Count how many sticks he can collect at one time and how many attempts have to do to finally gather all the sticks. Watch his progress as he gains experience of the game. Now it's your turn to play.
A treasure hunt
Who in childhood did not seek the treasures? Well, what they can be hidden in a Studio apartment. First, draw a map, think through each step. Let it be a kind of relay race of questions from the school program. The reward will be a treasure, something tasty or movie tickets.
Volleyball home
You want to exercise, not going outside? Why not do a volleyball right at home, but only balloons. Play, then reap the speed they burst. For example, the fifth point.
Riddles about animals
Encourage your child to think of some animal and gestures to portray its habits. By the way he moves, try to understand who it is. The baby should help you to do this as quickly as possible.
Then comes your turn to think. After you both will cope with this task, talk about animals, birds, fish. Make a list of animals that already knows the child, and try to find pictures with their image. Divide them into three groups: wild, domestic and Pets. Try to learn more about those whom you portrayed, and see if you can get now to make it better. Think also about the walk to the zoo, however, there is better to go on a Sunny day.
Search in the Library
In our age of high technology, email, and computer games reading books continues to be an important element of culture. In some rainy day by wearing rubberized shoes, go to the library and look for something interesting.
Before heading out, ask your kid what book he would like to have — about dinosaurs, of a Little Flour or a book with trains and planes. As the child Matures, try to teach him how to use the catalogue. Look for the directory authors — your namesakes and what they write. Select any topic and find out if there are books dedicated to her, and take one home.
Prints
This game will appeal to most parents. Take a drawing paper and paint — tempera, watercolor or gouache. Let the child collect small objects of different shape and quality — to start with a piece of sponge, bottle cap, shell, lid from the tub of margarine, a few erasers. Now you have to dip something into the paint and then use like a stamp, leaving prints on the paper. Let the child do it with different objects on the same sheet of paper several times. After he tried it for this purpose, each of them, take a new. Attach to the paper painted half a potato cut in it holes and grooves, you can see an interesting pattern. Improve this method of producing prints with the help of improvised means.
Recall that in Kyiv school the parents of six children ended up in hospital after playing with a fire extinguisher.
SEE ALSO
Strange celebrity babies: son of Timberlake look like a girl
Comments
comments