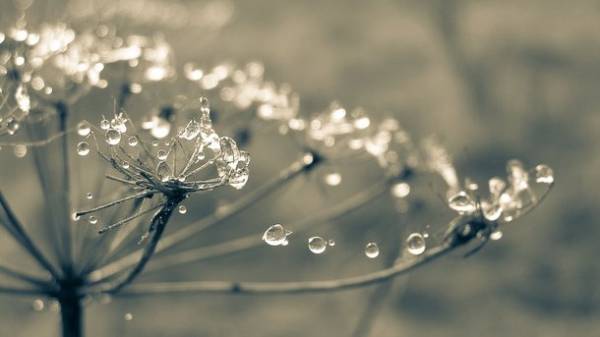 In Ukraine come frosts and cold.
As reported in the social network forecaster Natalia Didenko, the next night in Sumy, Kharkiv, Poltava regions and places in the Luhansk region are expected frosts 0-3 degrees.
Night air temperature in Ukraine is + 7..+ 12, and the South and Transcarpathia to +12..+ 15, in the North-East + 3..+ 7 degrees, is also expected frosts.
"Tomorrow during the day also do not heat: + 15..+ 19 C, in Transcarpathia to +22, in the same North-East – Sumy, Kharkiv, Poltava, part of the Luhansk region – + 12..+ 15 degrees. About the rain tomorrow and in the near future it is not – the anticyclone. This means dry, mainly Sunny weather," – wrote Natalia Didenko.
In the Eastern, southern parts of Ukraine, especially in the sea of Azov, the East wind will accelerate to stormy gusts, speed 15-20 meters per second.
In Kiev tomorrow, September 27, also dry and Sunny but cool.
"The next night + 6..+ 9 degrees, in the afternoon +15..+ 16 degrees. In the night of Thursday in the capital, probably on the outskirts, there is a chance of frost," – said the forecaster.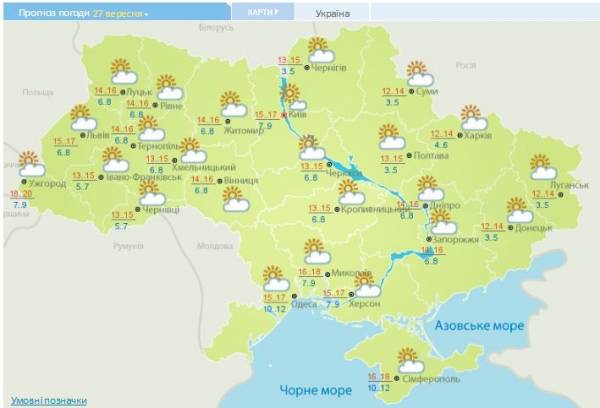 Photo: meteo.gov.ua
We will remind, in Ternopol region, during the elimination of consequences of elements in kryvoluka village of Chortkiv district, killed 57-year-old worker RES.
Comments
comments