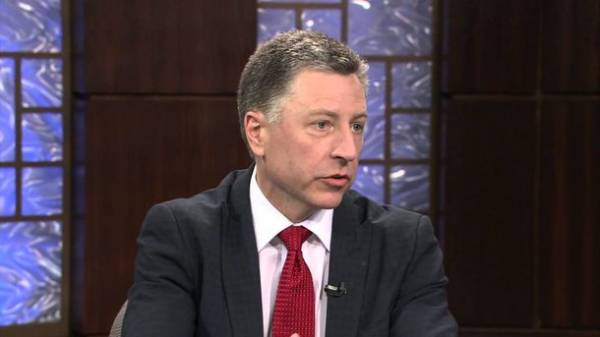 Introduction in the Donbass UN peacekeeping forces will provide conditions for holding local elections in ORDA. In an interview with ZN.UA said the special Envoy of the US state Department on Ukraine Kurt Volker.
According to him, the holding of elections impossible, while Ukraine will not have the required access areas.
"This is one of the reasons for the braking of the Minsk process: on the one hand, there is an agreement to hold the elections, on the other – in the current circumstances their holding is unreal. If it is found acceptable through the involvement of international peacekeeping forces, then there will be a security tool, a means of physical control of territory. Under these conditions, when the conditions for effective international monitoring, the organization of local elections possible," the diplomat said.
According to the special representative, elections must address a number of issues related to the organization of the electoral process: clearly define who has the right to vote, as the return of internally displaced persons and give them the opportunity to participate in the elections.
"And perhaps it should be more than one election than just a one-time vote, it should be a series of elections," admitted Walker.
According to the diplomat, the help of the peacekeepers in providing security will allow to count on the fact that the Russian troops will leave the Donbass.
SEE ALSO
Poroshenko: the Placement of UN peacekeepers in the Donbass will not be carried out according to the Russian scenario
"Consequently, there will be space and time to undertake the necessary political steps. And this, in turn, will allow you to get to the end of the Minsk agreements", – he stressed.
We will remind, on September 21 the President of Ukraine Petro Poroshenko met with US President Donald trump on the sidelines of the UN General Assembly in new York. Negotiations lasted about an hour. In was attended by Vice-President Michael Pence, Secretary of state, Rex Tillerson and the special representative of state Department of Ukraine with Kurt Volker, the Minister of foreign Affairs of Ukraine Pavlo Klimkin, the permanent representative of Ukraine to the United Nations Volodymyr Yelchenko Ambassador of Ukraine in Washington Valeriy Chaly.
After negotiations with the trump Poroshenko said that the US supports the introduction of an international peacekeeping contingent in the Donbass, and also praised the level of bilateral cooperation, in particular in the field of security and defense.
Comments
comments