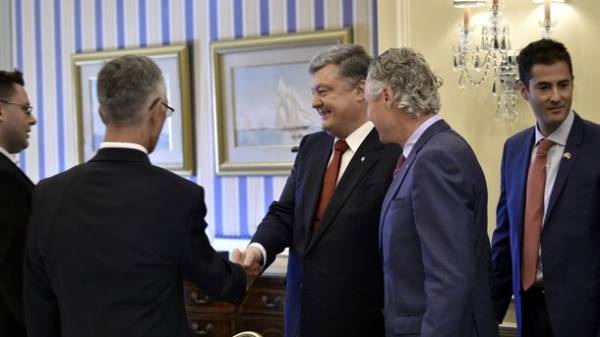 President of Ukraine Petro Poroshenko during a working visit to Canada met with representatives of canadian business and invited them to Ukraine, the press service of the head of state.
"We are doing everything possible to make relations between our countries closer. The canadian Ukrainians to invest in Ukraine to support the economy. Now the whole canadian business ready to come. And I want to tell you that now is the right time and place to invest", – said Poroshenko, adding that Ukraine has great potential.
The President recalled that a few days ago, Ukraine completed the placement of Ukrainian sovereign bonds for $ 3 billion. "This is a good signal about investor confidence in Ukraine and the reforms that are carried out", – said Poroshenko.
The head of state spoke about the changes in Ukraine, particularly anti-corruption steps, the introduction of electronic Declaration and the recent reforms which were carried out by the Ukrainian authorities.
The President drew the attention of businessmen on the assessments of international financial organizations, which boil down to the fact that in Ukraine for the last three years done more than in the previous 20 years.
"A number of canadian companies working in the field of energy, agriculture, defense and financial sectors, the aircraft industry has shown considerable interest in the Ukrainian market, particularly in the context of implementing free trade with Ukraine", – stated in the message.
As you know, Petro Poroshenko, on September 22-23, is in Canada on a working visit.
Comments
comments