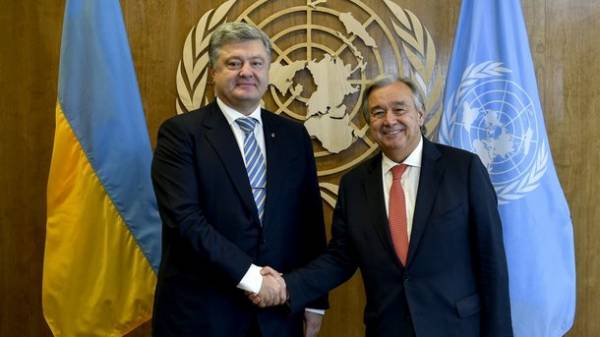 On the sidelines of the 72nd session of the UN General Assembly the President of Ukraine Petro Poroshenko had a meeting with the UN Secretary-General antónio Guterres, the press service of the President..
The interlocutors discussed in detail the question of active involvement of the UN in settling the situation in Donbas, in particular the prospects for the deployment of a full UN peacekeeping mission in Ukraine.
The President of Ukraine stressed that only a full-fledged peacekeeping mission with a comprehensive mandate, can contribute to achieving the main goal – the restoration of peace in Donbas.
The interlocutors stated that the mission's deployment should occur with a clear respect for the basic peacekeeping principles UN.
SEE ALSO
NATO Secretary General supported the idea of Ukraine's peacekeepers
In the context of the implementation of UN General Assembly resolution on the situation of human rights in Crimea, the Ukrainian President noted the need for the international community to take additional measures to force Russia to fulfill the specified document. In particular, Russia must provide safe and unimpeded access to the Peninsula to existing regional and international monitoring organizations in the field of human rights.
The President of Ukraine thanked the UN for providing humanitarian assistance to internally displaced persons and affected civilian population of Donbass. The Ukrainian head of state urged the UN to join the process of the release of the hostages.
The sides discussed issues of strengthening the personnel of representation of Ukraine in the structures of the UN system.
Earlier the President of Ukraine during his working visit to the United States of America was held on the 21 September meeting with President Donald trump. In the meeting of the presidents was also attended by Vice-President Mike Pence, Secretary of state, USA Rex Tillerson, Advisor to the President for national security Herbert McMaster, special representative of the President of the United States Ukraine Kurt Volker and other officials.
Comments
comments