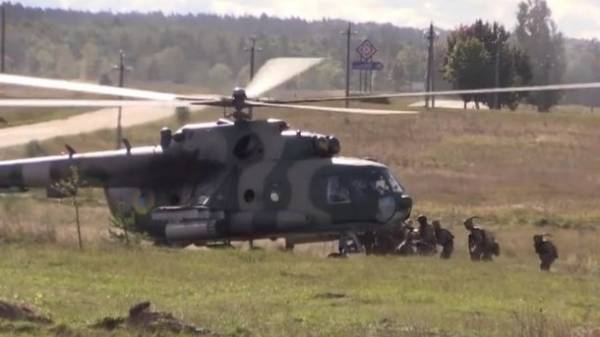 Wednesday, September 20, in accordance with the plan of the Ukrainian-American command post exercise Rapid Trident – 2017 in Khmelnytskyi region, on the basis of a military airfield tactical aviation brigade named after Peter Franco began the practical phase of the aviation component of the exercise.
As the press service of the defense Ministry of Ukraine, military transport aircraft An-26 from the composition of Air forces of Armed forces of Ukraine and American C-130J "Hercules" carried out the airdrops in the interests of the Land forces and special operations Forces in the area of the International centre for peacekeeping and security, which is stationed in the Lviv region.
Senior state representative of the aviation components of the exercise Colonel Valery Morganic noted that Ukrainian transport An-26 on Wednesday morning performed a flight from Starokostiantyniv in the city, where downloaded a certain number of conventional armaments and equipment for the Department of special operations Forces of the armed forces and by air with the subsequent parachute landing brought him to a certain district.
"A similar cargo in the interests of certain departments and units of the Land forces complied with, and an American military transport aircraft C-130J taking off from a military airfield in Starokonstantinov," said the officer.
Prior to this, during the week of the American military pilots and engineering staff spent their Ukrainian colleagues theoretical and practical training on the methods, characteristics, rules, methods and means of mounting, transportation and landing, and safety measures.
"We know that the Ukrainian military pilots are well trained in transporting different types of cargo and personnel by air and landing in a given area," said a senior national representative of the aviation components of the exercise the officer Voyenno-air forces of the USA major Todd Morgan (Tod Morgan).
"However, we worked together the whole algorithm of the participation of the military transport aircraft in conditions close to the fighting, which was adopted and successfully used in carrying out such missions in the NATO armies. Our goal is to achieve a unified approach that is necessary for further successful cooperation of the Ukrainian Air forces in any joint exercises or training with flight crews of countries that are members of the military-political bloc of NATO," – stated American officer.
Comments
comments