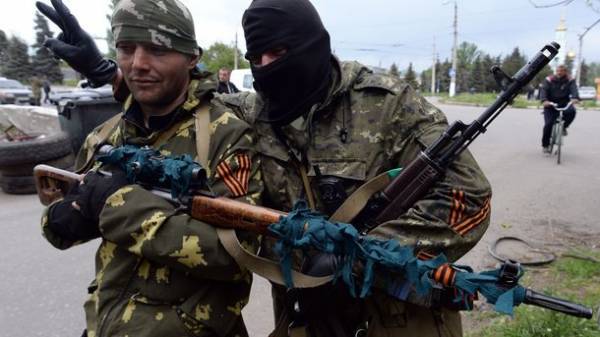 Local militants in the so-called "DNR" and "LNR" are not eager to fight on the front line, often violate discipline. Told about it in interview "" the force commander of tactical group "Lugansk" major-General Oleg Mikats.
Talking about the Russian military, the General said that they come to Donbass to be trained and get promotion.
But local militants, according to him, fighting almost without motivation and desire.
"Those who are on the demarcation line, is mostly local. They don't really want to fight, they are forced – literally. The motivation they have almost nothing at all. This particularly affects when they get paid. They then immediately mass are beginning to drink alcohol, lose their weapons, blown up their own stretch marks… There, in Lugansk, comes to the fact that we can hear their conversations like: "That's three down drunk, sleep machines I have, come, take". A lot of these stories," said Mikats.
SEE ALSO
Russian military expert shamed fleet before the American
The General also noted that in the ranks of Russians and militants continues sovetchina and thriving hazing.
"Look at what they have going on there – what exercises there are, rises the alarm, bringing the highest degree of combat readiness, to cast a variety of combat actions, verifying arrival and understand it completely by the Soviet army. Nothing has changed. A lot vnesustavnykh relationships – the law of the strongest. Who is stronger – that and the rights. The Russians came – it is a priori in authority. So it can, with impunity, the local leg to shoot or face to squeal," added Mikats.
As stated earlier, the Deputy Minister of the temporarily occupied territories and internally displaced persons Yury Grymchak, Russia is slowly winding down its military presence in the Donbas and exports out of valuable military equipment.
Comments
comments