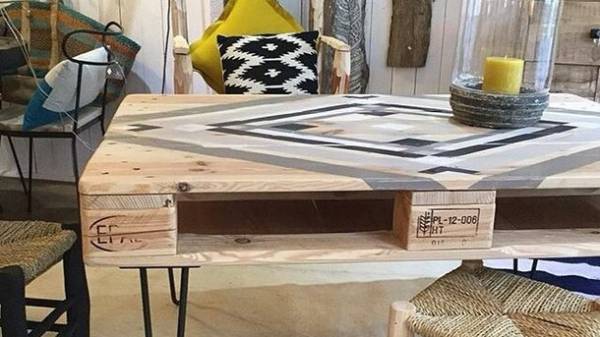 Warm, alive, textured, it might even make a cozy cave – what to speak of modern comfortable house! And, nevertheless, to talk worth it, because today, the tree is a constant through all the most topical trends in interior design: eco – friendly and Scandinavian styles, loft, country, moreover – there are even wooden high-tech.
Plus a single wooden elements of decor that can be easily combined with other materials – metal, leather, textiles, glass, creating a visually and tactilely pleasing combination of textures and colors.
From lighting to tableware, from gamachu for cats up music box based on "Game of thrones" – wood can be both very practical and original.
Original wood can be an interesting accent to any interior. And find it will be in this weekend, 23 and 24 September, in Kiev, Desyatinnaya, 12, where will be held the Ukrainian market brands of products for home and decor "Light in Dom" from project "VSI. Svoï." "The name of the market clearly indicates its main theme is light, and carries very correct emotion: a feeling of comfort and warmth," says author and project Manager Anna Lukovkina.
Total participation will take about 120 producers from all over Ukraine. Of course, it will not be the only brands lighting, but also manufacturers of home textiles, pottery and various utensils, as well as those who work with wood: in a large scale (furniture) and "small forms". To the last we looked, finding in them the range of 10 original items, which in your home will certainly be lighter and heartier.
A hammock for the cat
The items are just cute there are very cute and there are an adequate pension for cats. And the last – along with his fluffy "content" – the ability to make "millimetr tipped the scales" in almost any. A piece of furniture, beautiful and practical: it is easy to move and easy to care for them – if necessary, the textile part is simply removed and sent to the Laundry.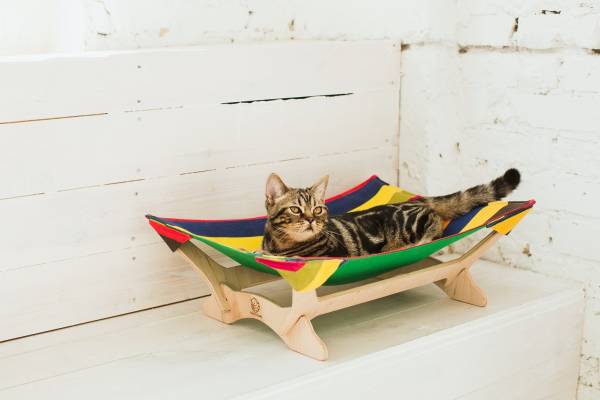 Cotognata from "Datafabric" made from birch plywood and 100% cotton. Price – 349 UAH
House for sukkeleof instruments
Original and stylish solution to the issue of landscaping of the apartment, which is suitable even for those who always forget to water the flowers. In this house-Floriana live evergreen succulents – plants are low maintenance, but very effective. And the fact that Floriana glazed interior will protect your garden from too much attention from Pets or small children.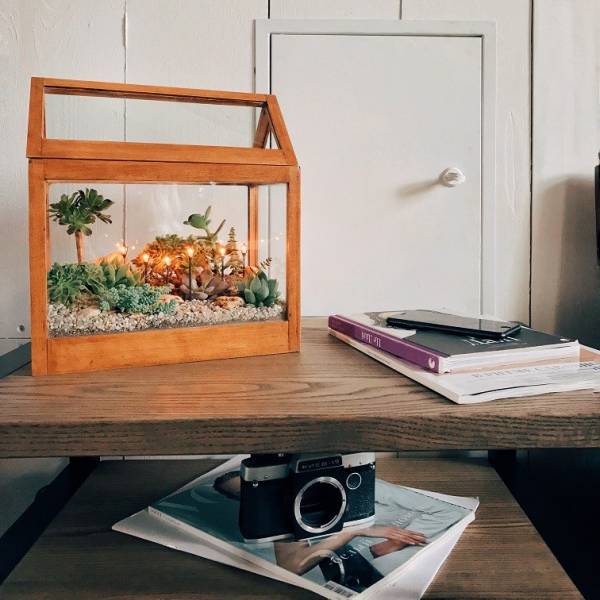 The Floriana "Lawi dim" from the brand Fetricor wood and glass illuminated with decorative lanterns (size 27х17х35см). The price is 1 999 UAH
Cueativnost SVeTelnic
Wooden lamps bring to the house a very special feeling of warmth and coziness. And yet, due to the fact that they often have unusual shapes, they can be arranged in the interior of a whimsical play of light and shadow.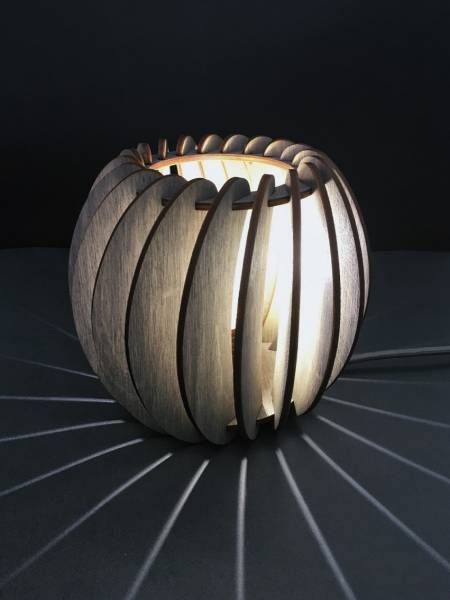 Birch table lamp Apple brand Mr.Deer (sizes 16х16см). The price is 550 UAH
Musice box
In such a mysterious atmosphere is very appropriate music appropriate for the spirit of the movie is about magic and feats. And even cooler, if it sounds not from the speakers, and the music box – object that childhood seemed to be real magic. And now – even when you know how it actually works – still seems to be something fabulous.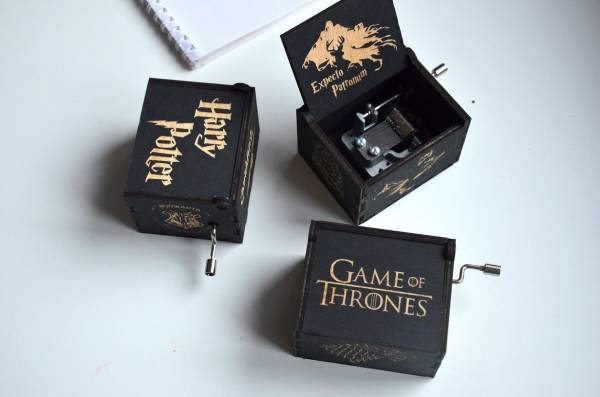 Music box with melodies from the "Harry Potter" and "Game of thrones" from the brand Enjoy The Wood is made of birch plywood (sizes 7,2х6х4,7 cm). Price – 270 UAH
Sectionelocna Board
Many fans of "Game of thrones" will certainly have to taste a cutting Board with engraving, plays on the key series phrase Winter is coming! ("Winter is coming!"). And the fans – fans of black humor – and appreciate the fact that in addition to the label cutting Board adorned with the emblem of any building, namely the Starks.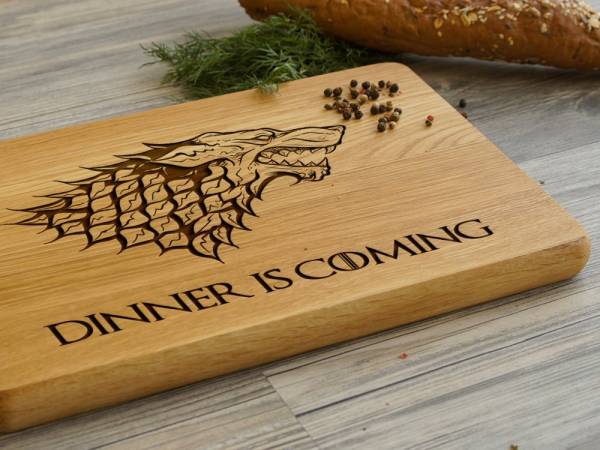 Oak cutting Board with laser engraved based on "Game of thrones" from the brand WoodPresentStudio. The price – UAH 320-600 (depending on size).
Decoratina tareLKA
In addition to the original cutting Board, your kitchen can be decorated and wooden bowl, perfect for fruit, dry snacks or bread. However, this subject will be no less appropriate in the living room: after all, the dish more decorative. However, wooden utensils can be used for its intended purpose. The main thing is to take care of it: wash immediately after use, but do not leave in too long so the tree does not swell. After that, wipe dry and store in a dry place. Times per month wooden utensils recommended to soak it in warm alcohol or vodka to prevent bacteria and odor.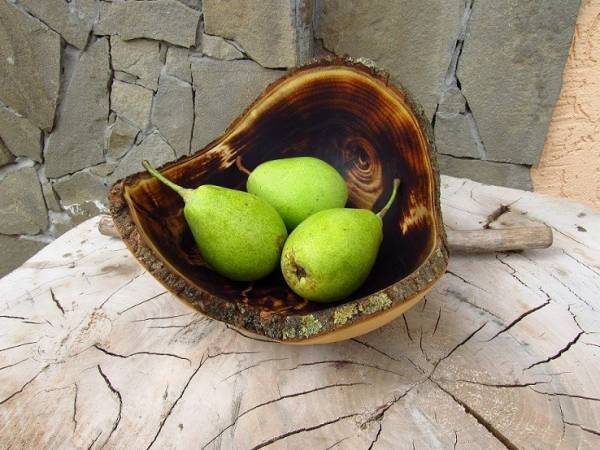 Plate from the brand AKWOOD manufactured from solid wood (branching) maple. Price – 650 UAH
DeReFanny decor
From practical things – things are just beautiful. Wooden decorative elements attract attention in any interior due to its texture and "nastasescu".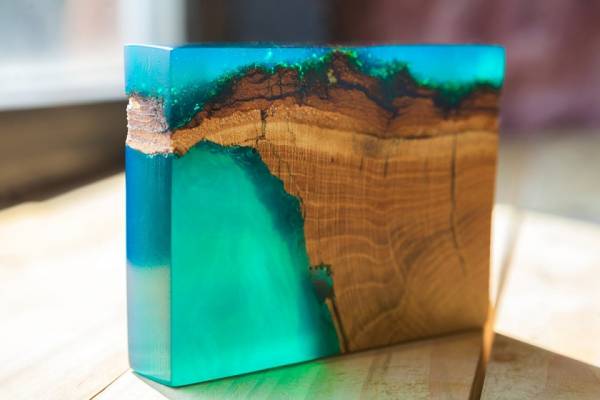 Decor by brand WOOD 2 LIFE, made of natural oak with a coating of oil, wax and epoxy resin with a color pigment (size 12х9х2см). Price – 400 UAH
Nastennaya map
This decorative element on the wall looks much more spectacular conventional paintings. And yet – like expanding the scope of space. It's the whole country – or even the whole world! – just you in the room.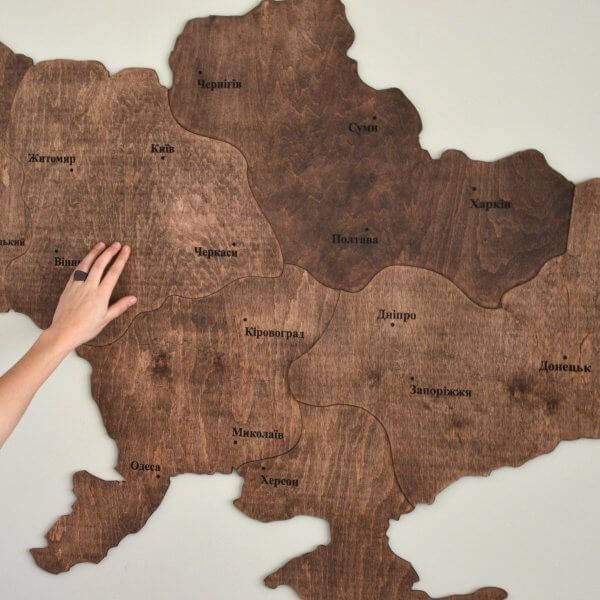 Wooden wall map of Ukraine from the brand Enjoy The Wood. Price – 990-2 900 UAH (depending on size)
Thedreamse – booke shelves
In fact, the room is able to accommodate not one world, but many: the different worlds of the best books of your favorite authors. Everything you need is convenient and the beautiful bookshelf.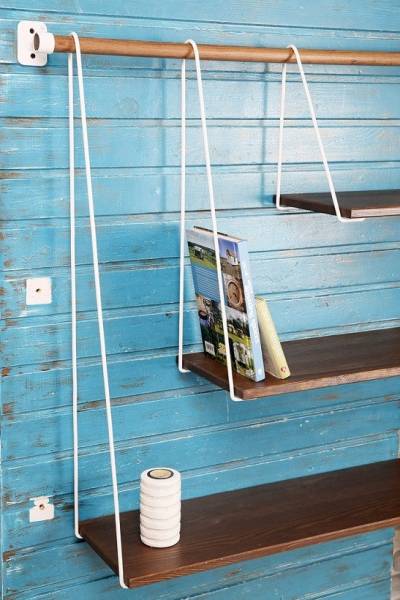 Set of 3 pine shelves from the brand HairpinlegsUA (size 80х25; 60х25; 40х25 cm). Price – 3 500 UAH
Original highlightecznik
"Came the need to knock on wood – discover that the world consists of aluminum and plastic," joke the designers are promoting the idea of maximum use in the interiors of natural materials. Well, with that candlestick in the house of any evil eye is not exactly terrible! Here it is – a return to roots, both figuratively and in the literal sense of the word.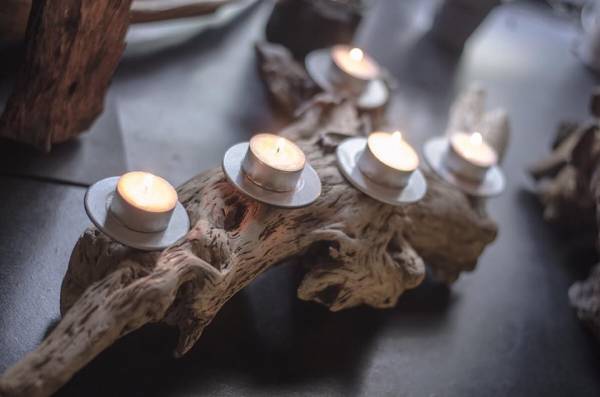 The candlestick caught from the lake the root of the willow Tree brand from the Art Shop. The price – 2 200 UAH
Comments
comments