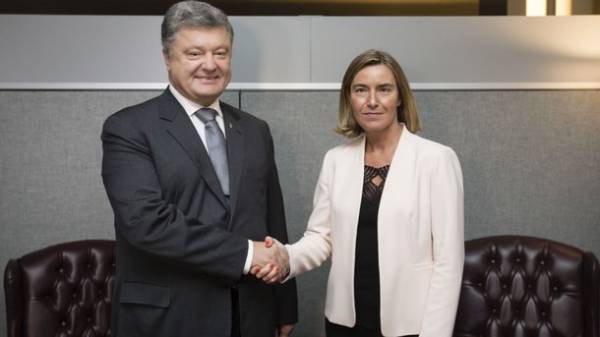 The President of Ukraine Petro Poroshenko and EU high representative for foreign Affairs and security policy Federica Mogherini at a meeting on Tuesday in the UN General Assembly new York (USA) discussed the situation in Donbas, in particular the idea of introducing a peacekeeping mission, as well as coordinated positions on the eve of the November summit in Brussels.
"The President briefed the high representative about the situation in the Donbas and the status of implementation of the Minsk agreements and Ukraine's initiative to deploy in the occupied Donbass UN peacekeepers, including the uncontrolled section of the Ukrainian-Russian state border", – the press service of the Ukrainian President at the meeting.
Poroshenko stressed that Ukraine hopes for more active support of the EU on the issue of release of Ukrainian political prisoners in Russia and Crimea.
In addition, the interlocutors also coordinated position on the eve of the Eastern partnership summit, which will take place on 24 November in Brussels.
The Ukrainian head of state welcomed the new level of cooperation with the EU countries, in particular in the context of the entry into force of the Association Agreement between Ukraine and the EU and visa-free regime.
The parties also discussed a new strategic goal for the European integration of Ukraine. The President urged the high representative to support the initiatives of the Ukrainian side to promote further rapprochement with the EU and undertake fundamental internal reforms in Ukraine.
Earlier it was reported that Mogherini discussed with the Pens the situation in Ukraine.
Comments
comments