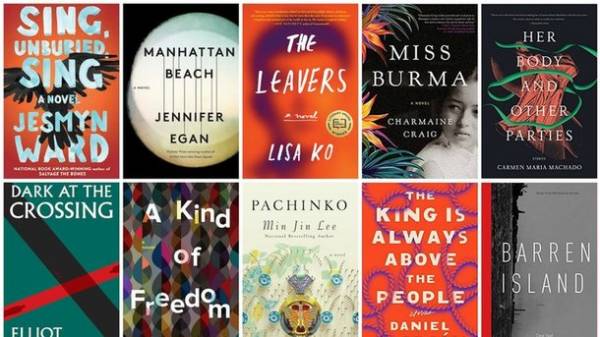 About the best representatives of book fairs in Lviv we already told you, so it's time to look at "overseas".
National book Foundation has released its long list of those who will receive the award for fiction. 10 books represent a mix of blockbusters from the already known and new writers. Look who got into this list:
1. Elliot Ackerman, "Dark transition" ("Dark at the Crossing")
Arab Americans attempting to enter Syria, is struggling with loss, grief and redemption, when desperately looking for a purpose in this life.
2. Daniel alarcón, "the King is always above the people" ("The King Is Always Above the People: Stories")
Alarcon explores loss, uncertainty and power.
3. Charmaine Craig, "Miss Burma" ("Miss Burma")
Miss Burma follows the members of ethnic minority groups, forced to fight repression and violence in their own country.
SEE ALSO
The book is about Harry Potter "came to life"
4. Jennifer Egan, "Manhattan Beach" ("Manhattan Beach")
Egan tells the story of a female diver who is looking for causes of the disappearance of his father, in order to understand their fate in Manhattan beach.
5. Lisa Ko, "Leaders" ("The Leavers")
Lisa Ko tells the story of a Chinese-American boy trying to find his missing mother.
6. Min Jin Lee, "Pachinko" ("Pachinko")
Vivid, exciting Saga of several generations of Koreans in Japan is a story about resilience and emotional conflict.
7. Carmen Maria Machado, "Her body and other parties" ("Her Body and Other Parties: Stories")
Creepy and provocative debut author. It erodes arbitrary boundaries between psychological realism and science fiction, Comedy and horror.
8. Margaret Wilkerson Sexton, "freedom" ("A Kind of Freedom")
Multidimensional study of systemic racism in America example of three generations of family from Louisiana.
9. Jasmine Ward, "Singing, Unrestored, Singing" ("Sing, Unburied, Sing")
Powerful live the novel, "haunted by ghosts"; a trip where you can go people, but never do. An intimate family portrait and an epic story about hope and struggle.
10. Carol Soref, "The Island Of The Burren" ("Barren Island")
Tells the story of heroes struggling with issues of morality and freedom, living in isolation on an industrial island in the 1930-ies.
Recall, the writer Elliot Ackerman came to Ukraine at the book forum in 2015.
Comments
comments