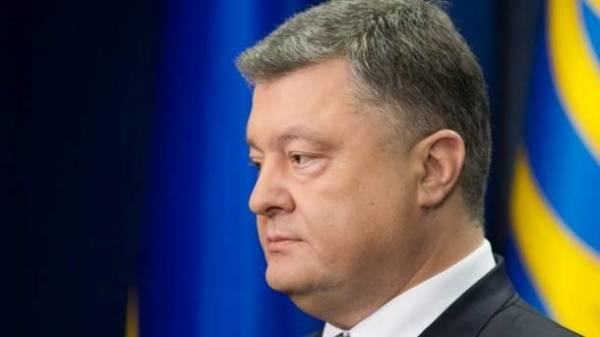 President of Ukraine Petro Poroshenko during his visit to the United States and Canada and during meetings with various political figures will raise questions not only of Donbass, in particular peacekeepers, but also will discuss de-occupation of the annexed Crimea. This was told by MP, the President's representative in Parliament Iryna Lutsenko during the conciliation Council of the Parliament, UNIAN reports.
According to her, one of the main topics in the United States will discuss the deployment of peacekeepers in the Donbas.
"The whole week he will be devoted to peacekeeping missions related to the de-occupation and a peaceful political and diplomatic means issues in the East of Ukraine, in some regions of Donetsk and Lugansk regions. The President, speaking at the security Council, will push for an expanded mandate of UN peacekeepers to maintain peace which will allow the "blue helmets" to use weapons if necessary, and not only for self-defense. Mandatory placement on the border of Ukrainian-Russian on those 420 kilometers of uncontrolled border," – said Lutsenko.
SEE ALSO
Poroshenko at the forum YES told how Ukraine will return Crimea
She noted that the President also will insist on the withdrawal of Russian troops from Ukraine that it was possible to introduce peacekeepers to the Donbass.
"It is not only security of the OSCE mission, but a mandatory compulsion to mine action, to disarmament, it is a prerequisite for the withdrawal of Russian troops and instructors from the territory of Ukraine. That is, all those necessary aspects that are inherent to peacekeeping missions", – said Lutsenko.
The MP stressed that another important point will be the issue of Crimea and Poroshenko at the UN General Assembly invite the countries to join forces and create an international group to support the de-occupation of Crimea.
SEE ALSO
Kerry on the forum YES in Kiev denounced the annexation of Crimea by Russia
"Thus, his statement at the General Assembly confirms the thesis that we are peace in the Donbass, but do not forget about the Crimea, and strengthen measures to ensure that the de-occupation of Crimea took place in the nearest future", – summed up the representative of the President.
Recall, Petro Poroshenko will speak today at the UN General Assembly, and will also participate in the summit of the UN security Council. In addition, on September 22-23, the President working visit to Canada.
On the 21st September, as part of their participation in the 72nd session of the UN General Assembly in new York held a meeting Poroshenko with the American leader Donald trump.
Comments
comments