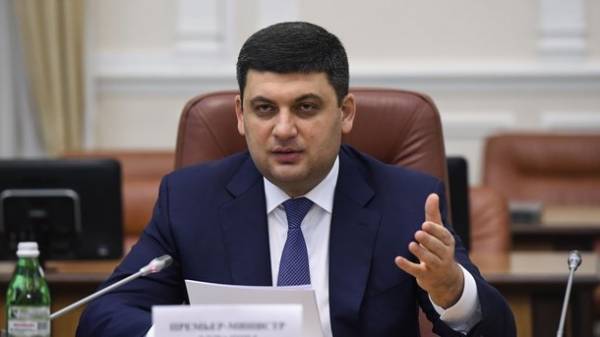 The Verkhovna Rada Committee on tax policy must within one month to develop a new draft law on financial investigation Service. This was stated by Prime Minister Vladimir Groisman on the sidelines of the 14th annual meeting of the Yalta European strategy (YES-2017) "is the world a new? And what does it mean for Ukraine?" in Kiev on Saturday.
"The Committee within one month accumulated new law on financial investigation Service, and we will eliminate the economic division of the SBU, MIA, GFS is a fight that we must win," he said.
The Prime Minister noted that he intends to discuss the draft law with representatives of business.
Finance Minister Alexander danyluk, commenting on the situation, urged to take the bill that is already in the government, was developed by the Ministry of Finance and agreed upon with the International monetary Fund (IMF).
"I'll convince the President and Prime Minister to submit to Parliament the bill, which was developed by the Ministry of Finance together with other ministries in the Cabinet, which agreed with the IMF. This will allow us in the near future to improve the investment climate in the country," he told reporters YES-2017.
Earlier it was reported that the Cabinet of Ministers of Ukraine approved the bill on the FIU only in advance. It was stated that the Service firesleeve it is planned to create instead of tax police and concerned with economic Affairs divisions of the Ministry of internal Affairs and security Service of Ukraine.
However, the question of jurisdiction of the FIU have not been resolved. Three options have been considered, who will be under the supervision of the FIU. On the proposal of the Ministry of Finance, the service must be subordinated to the Ministry of Finance. The interior Ministry insist on the accountability of the Ministry of internal Affairs. A third option is to give the FIU under the control of the Cabinet.
The leadership of the Ministry of Finance the past few months is in conflict with the tax management of the relevant parliamentary Committee, headed by Nina Southerner.
Yalta European strategy (Yalta European Strategy, abbreviated as YES forum) is an annual conference organized by the Victor Pinchuk Foundation.
The conference gathers the most influential politicians and businessmen of Ukraine and the world, it has been held annually since 2004.
HELP
Yalta European strategy YES: what you need to know
The aim of the conference is the development of Ukraine and its European future, as well as establishing international ties.
The founder of the Yalta European strategy, Victor Pinchuk, a prominent Ukrainian businessman and philanthropist.
Comments
comments