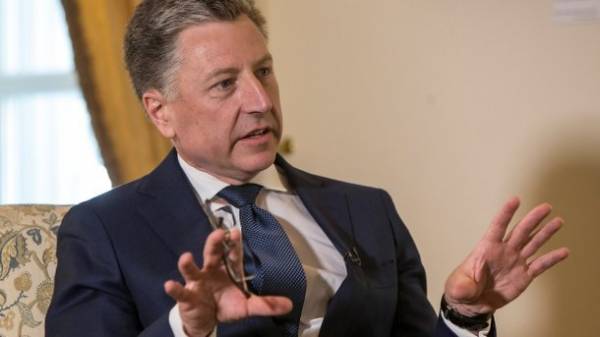 The Russian proposal on the introduction of UN peacekeeping forces in the Donbass are harmful for Ukraine elements, but it can be a starting point for compromise, said the special representative of the U.S. State Department's Kurt Volker at the 14th Annual meeting of the Yalta European strategy (YES), organized by the Victor Pinchuk Foundation.
"The specifics of what was proposed, more will divide Ukraine, than to do something useful. But the fact of the sentence is interesting – it is necessary to perform. If you think about the international security forces and to replace the army on the issue of monitoring heavy weapons, control of border, it is a significant step forward and will be the basis for the implementation of the Minsk agreements ", – he said
Kurt Volker recalled that in the case of progress, Ukraine will also need to be ready to perform their political obligations.
"If agreement is reached about the peacekeepers, the initiative will be implemented in the context of the Minsk agreements. This means the restoration of Ukrainian sovereignty and territorial integrity in the East of border control. But it also means that Russia should be confident in the implementation of the political part "of Minsk", – he concluded.
Informed the special representative of the US state Department announced that it plans in October to meet with Russian presidential aide Vladislav Surkov, which will discuss the question of Donbass.
Yalta European strategy (Yalta European Strategy, abbreviated as YES forum) is an annual conference organized by the Victor Pinchuk Foundation.
The conference gathers the most influential politicians and businessmen of Ukraine and the world, it has been held annually since 2004.
HELP
Yalta European strategy YES: what you need to know
The aim of the conference is the development of Ukraine and its European future, as well as establishing international ties.
The founder of the Yalta European strategy, Victor Pinchuk, a prominent Ukrainian businessman and philanthropist.
Comments
comments