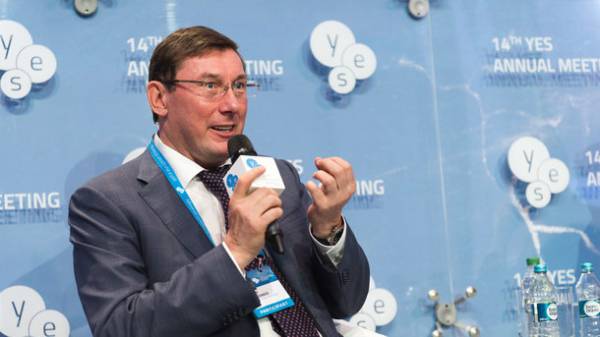 The General Prosecutor of Ukraine Yury Lutsenko declares that the investigation in almost all cases against the former environment of the President of Ukraine Viktor Yanukovych. He said this during a speech at the 14th annual international conference of the Yalta European strategy (YES) in Kiev today.
"Today, we are in a country where the court judged the former President Yanukovych of treason, and it is a signal for Yanukovych and his team, it is a signal for all the presidents and all officials that will be today and tomorrow. I am sure that this is a major achievement," he added.
"Second, we actually finished almost everything, in addition to individual cases, cases against Yanukovych's entourage. The investigation is completed, the phase of the judicial process", – said Lutsenko.
Before Lutsenko declared that the criminal proceedings in which the ex-President of Ukraine Viktor Yanukovych, former interior Minister Vitaly Zakharchenko and former head of the security Service of Ukraine Oleksandr Yakimenko accused of involvement in the shootings on the Maidan Nezalezhnosti in February 2014, will be brought to trial in late September of this year.
Yalta European strategy (Yalta European Strategy, abbreviated as YES forum) is an annual conference organized by the Victor Pinchuk Foundation.
The conference gathers the most influential politicians and businessmen of Ukraine and the world, it has been held annually since 2004.
HELP
Yalta European strategy YES: what you need to know
The aim of the conference is the development of Ukraine and its European future, as well as establishing international ties.
The founder of the Yalta European strategy, Victor Pinchuk, a prominent Ukrainian businessman and philanthropist.
Comments
comments