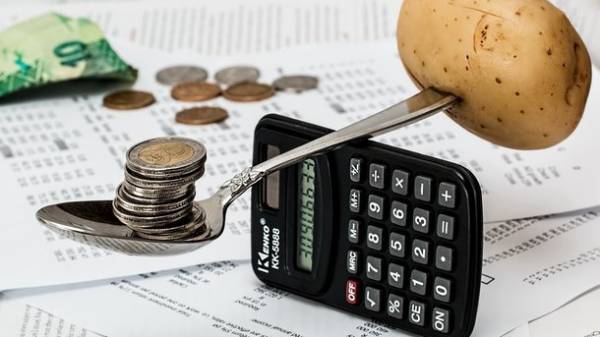 In August, consumer inflation continued to rise in annual terms and amounted to 16.2%, exhausted from the forecast of the National Bank of Ukraine (NBU). Such information was published by press service of the national Bank, noting that at the end of the year inflation in Ukraine will seek to slow down – although outside of the target of 9.1%.
However, on a monthly measurement of consumer prices decreased by 0.1% due to seasonal cheapening of fruits and vegetables, clothes and shoes, noted in the NBU.
 
"The actual inflation rate in annual terms has exceeded the trajectory of the National Bank forecast published in the inflation report for July 2017," – said the regulator.
First of all, faster than expected, inflation is, according to the NBU, the high rate of growth of prices for crude foodstuffs and tobacco products.
"As in previous months, this has resulted in the factors on the supply side, unfavorable weather conditions this spring resulted in higher prices of fruits and vegetables and significant exports of meat and dairy products – to its rise in price in the domestic market," – explained in the national Bank.
Despite this, the fundamental inflationary pressure remained moderate, noted in the NBU.
"In Ukraine, the continued improvement in inflation expectations – as professional experts and the public. In General, the level of their expectations is now at a historic low for the time of conducting these surveys was 7.2% and 10% respectively", – said the Deputy head of the NBU Oleg Churiy.
This, according to Cure, has played a positive role and has somewhat hampered the growth of consumer prices.
Another constraining factor for inflation was the state of the currency market. "Exchange rate expectations stimulated the population to actively sell foreign currency", – explained the Deputy head of the NBU.
SEE ALSO
The NBU explained what is happening with the hryvnia exchange rate in Ukraine
According to the forecast of the national Bank, until the end of 2017, the inflation in annual terms will strive to slow down, primarily due to the following factors:
the high base of comparison last year;
the expected moderate volatility of the exchange rate;
fading effects "inflation surprises".
 
However, the NBU predicts that in 2017 inflation will fall more slowly than assumed in the July forecast (9.1%). Accordingly, the stronger inflation will deviate from the center point of the target range of 8% +/- 2 percentage points at the end of 2017.
SEE ALSO
That lack of Ukrainian pension, and that will change after the reform
"In addition, in recent months have increased the risks of strengthening the fundamental pressure on prices in the medium term, in particular on the demand side," – said in the national Bank, explaining the possible incentive in the form of increased budget and pension payments.
Comments
comments